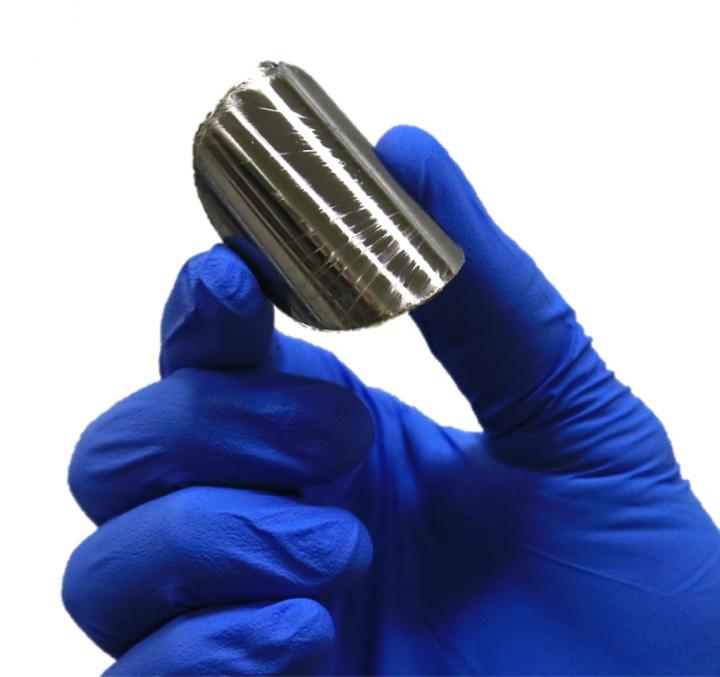 Flexible 20-micron spalled GaN film. (Credit: Bedell/IBM Research)It's a concept that's been actively explored for years: making integrated circuits on thin layers, as opposed to the thick, rigid semiconductor crystals in common use today. The prospect would allow for improved thermal characteristics, lightweight stackability and a high degree of flexibility.
As reported in the Journal of Applied Physics, a research group from IBM has successfully applied their "controlled spalling" layer transfer technique to gallium nitride (GaN) crystals, a prevalent semiconductor material. The technique can produce many layers from a single substrate, without causing crystalline damage. It also allows the measurement of basic physical properties of the material system, such as strain-induced optical effects and fracture toughness, which are otherwise difficult to measure.
There's also the cost factor: a single 2-inch wafer of single-crystal GaN can cost thousands of dollars. The new technique holds the promise of getting more value out of each wafer.
The approach is based on fracture, according to Stephen W. Bedell of IBM Research, who is one of the paper's authors. By looking deeper into substrate spalling fracture as a material science problem — metallic film deposition often leads to cracking of the underlying substrate -- the researchers found a way to control that cracking, and use it to peel off thin layers.
"First, we deposit a nickel layer onto the surface of the material we want to remove," Bedell explains. "This nickel layer is under tensile strength – think drumhead. We simply roll a layer of tape onto the nickel, hold the substrate down so it can't move, and then peel the tape off. When we do this, the stressed nickel layer creates a crack in the underlying material that goes down into the substrate and then travels parallel to the surface."
Put simply, when the researchers peel off the tape, the nickel layer and a thin layer of the substrate material stuck to the nickel come with it.
Because the process is done at room temperature, it is possible to apply the technique to finished circuits and devices, making them flexible. The method can also be applied at nearly any time in the fabrication flow, and is materially agnostic — it's been demonstrated to work with silicon, germanium, gallium arsenide, gallium nitride/sapphire and even amorphous materials like glass.
Controlled spalling has already been used to create extremely lightweight, high-efficiency GaAs-based solar cells, according to Bedell. It may also prove useful in creating ultrathin bioelectronics or implantable sensors.
The group is now working with research partners to fabricate high-voltage GaN devices, and hopes to use their technique to enable other novel devices through future partnerships.