Saint-Gobain® heat sealing tapes improve manufacturing efficiency
June 24, 2020
Sponsored Content
The value of a high-quality heat sealing tape is an important element in heat sealing machine applications. These machines apply high temperatures to plastic sheets or films to form air- or water-tight bags or other packages for food, medical supplies, and other consumer or industrial goods and materials.
A heat sealing machine, which has a heat source embedded within a platen, applies pressure and extreme temperatures to the plastic sheets or films, bonding them along seams to form a sealed package.
Heat sealing tapes protect the platen from molten plastic. Operators choose a tape that is not only resistant to high temperatures and can last repeated cycles, but also does not damage the platen and can be easily removed. Heat sealing machines are capital investments that need care and maintenance, and heat sealing tapes are an important part of the maintenance plan.
The optimal tape can lead to increased productivity and profitability by creating manufacturing efficiencies, such as longer production operating times between tape maintenance and repair intervals, faster heat sealing capability and throughput, higher-quality seals, and lower operating costs.
Saint-Gobain Tape Solutions help manufacturers realize process efficiencies through industry-leading heat sealing tapes with high strength, excellent friction and wear properties, and high operating temperatures. Numerous considerations must be factored into the selection of an appropriate heat sealing tape to ensure the creation of high-quality welded seams, trouble-free heat sealing machine operation. These considerations which are detailed below include dimensional stability, strength, thermal conductivity, coefficient of friction, abrasion resistance, wettability, peel strength, and temperature resistance.
Key applications and industries
Heat sealing tapes are used in several applications in the food processing and medical packaging industries. PTFE film tapes are a preferred option for applications that require long-lasting seals where dimensional stability is not critical, such as take-out food packaging, condiment sealing or small sealing surfaces. They are used with large heated platens and narrow sealing hot bar sealers for tray sealing and plastic shrink wrap for packaged meat and cheeses (Figure 1).

Figure 1. Sealed meat tray (left) and disposable food packaging (center, right). Source: Saint-Gobain
In the medical industry, heat sealing tapes can be used to create narrow seals for small packages using highly automated equipment. They are also suitable for use in the creation of blister packs for the packaging of medicine. Additionally, they are helpful to package household items, where the size of packs can vary significantly, or where the back of the packs is typically paper, foil or laminate (Figure 2).

Figure 2. Medical (left) and blister pack (right) packaging applications. Source: Saint-Gobain
Heat sealing tape performance
Heat sealing tapes consist of a substrate, which is the surface that comes into contact with the plastic, and an adhesive, which firmly bonds the substrate to the sealing machine. Fundamentally, heat sealing tapes must transfer thermal energy from the hot platen to the plastic without allowing the plastic to adhere to the tape. The adhesive that bonds the heat sealing tape to the platen must also withstand high temperatures without melting or losing adhesion to the platen.
The optimal heat-sealing tape substrate material is polytetrafluoroethylene (PTFE), commonly known as the brand name Teflon®, as it provides outstanding non-stick properties and high temperature resistance. Depending on the temperature range, either acrylic or silicone adhesives can be used.
Yet there are several additional requirements to ensure trouble-free and efficient operation.
Dimensional stability
The substrate must not shrink or swell with changing temperature and moisture. If wrinkles form the tape potentially loses its adhesion to the platen on the heat sealing machine. It is often desirable to reinforce the substrate with fiberglass to prevent wrinkling and increase the in-plane rigidity of the tape.
High strength
The substrate must have adequate strength so that it does not yield, break or tear under tensile and out-of-plane (tearing) loads. This is especially important during regular maintenance to prevent it from coming apart in pieces when it is being removed from the machine for replacement.
High thermal conductivity
The substrate must be capable of rapidly conducting heat through the thickness of the tape from the hot platen to the plastic. Higher conductivity substrates may be thicker and more durable than lower conductivity substrates, which may require a thinner tape.
Low surface friction and high abrasion resistance
During packaging operations, the plastic sheets may slide over the substrate until they reach the proper position, where the platen melts the plastic. The tape must therefore have a low coefficient of friction, permitting the plastic to slide over the tape substrate without wear, abrasion or tears. The low friction is also a key property of the tape as it creates a nonstick surface that repels the melted plastic.
Low wettability
When the plastic sheets melt, an inferior tape may allow molten plastic to stick to the substrate, which may cause build-up of the plastic onto the substrate and compromise its ability to conduct heat from the platen. This property, known as wettability, can be minimized by using a material with relatively low surface energy with respect to the plastic. Like low friction, low wettability is another key property that ensures a nonstick surface.
High peel strength
The adhesive used in the heat sealing tape needs to adhere to the heated platen and remain adhered during operation. The amount of force to remove the tape, known as the peel strength, should not increase or decrease after repeated exposure to high temperature cycles.
High temperature resistance
Higher temperatures are typically used in order to achieve faster production sealing rates. The adhesive used in the heat sealing tape must therefore be capable of operating at high temperatures without degradation or loss of adhesion.
Saint-Gobain solutions
Saint-Gobain understands the unique operating requirements of manufacturers and heat sealing machines, and has developed a comprehensive range of heat sealing tapes to ensure operators are achieving maximum productivity from their equipment, whether they are using impulse heat sealers or hot bar sealers.
By combining different substrates together with different adhesive systems, Saint-Gobain offers a variety of solutions that balance cost and performance.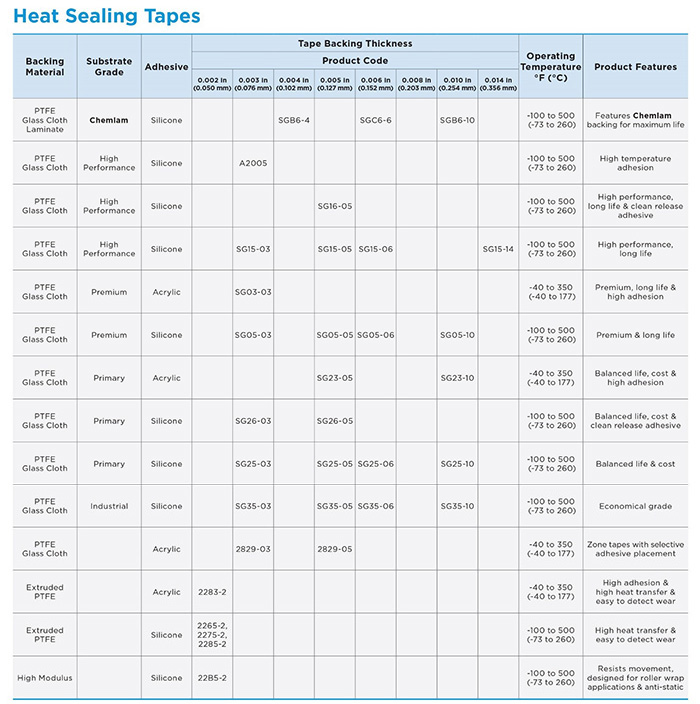 Table 1: Saint-Gobain Heat Sealing Tapes. Source: Saint-Gobain
For example, Saint-Gobain CHR® SG05-3 and CHR SG05-5 tapes include a high temperature adhesive that will survive short-term exposure up to 600o F. This enables customers to increase the temperature of the heat sealing bar and also increase the line speed.
On the other hand, Saint-Gobain CHR Chemlam® SGB6 and CHR Chemlam SGC6 tapes have a thicker PTFE layer and are processed in a way to remove surface cracks and pinholes that can lead to premature failure. This defect-free surface enables the tape to last up to three shifts before it needs to be replaced.
Contact Saint-Gobain
More information on the variety of Saint-Gobain Heat Sealing tapes for numerous applications can be found on the Saint-Gobain Tape Solutions website.