The ability to predict how metals react with water, and their propensity to corrode, is improved with a new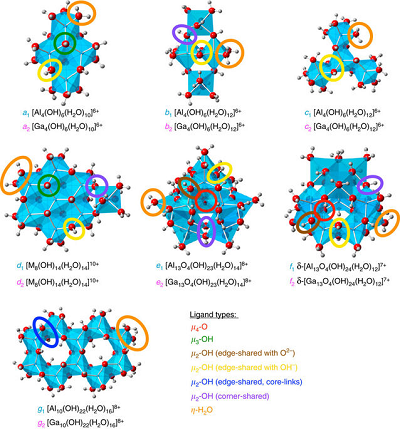 Seven metal aqueous oxo/hydroxo clusters were used to compute energies for the seven common ligands. (Source: Oregon State University)computational approach. The method developed by researchers at Oregon State University and the University of California, Berkeley, combines two techniques to make predictions faster, less costly, and more effective.
Studying aqueous metal oxide and hydroxide clusters from Group 13 elements – aluminum, gallium, indium, and thallium – the team coupled quantum mechanical calculations with a group additivity approach to create Pourbaix diagrams, the gold standard for describing dissolved metal species in water. The new system enables quantitative evaluation of cluster stability as a function of pH and concentration.
Understanding clusters is critical because of the role they play in chemical processes ranging from biomineralization to solution-deposition of thin films for electronics applications. Characterizing corrosion stems from being able to depict metals' stable phases in water.
"If you're designing a new steel for a bridge, for example, you'd like to include the potential for corrosion in a computational design process," said Doug Keszler, chemistry professor at Oregon State University. "Or if you have a new metal for an aircraft engine, you'd like to be able to determine if it's going to corrode."
These examples are not merely hypothetical. Just last summer, a Japanese airline had to refurbish all 100 Rolls-Royce engines on its fleet of Boeing 787 Dreamliners after a series of engine failures caused by the corrosion and cracking of turbine blades. The engines sell for $20 million each.