A breakthrough technique for site-specific nanoparticle surgery could enable scientists to create particles tailor-made for specific purposes. Fields ranging from medicine to health care to manufacturing could benefit from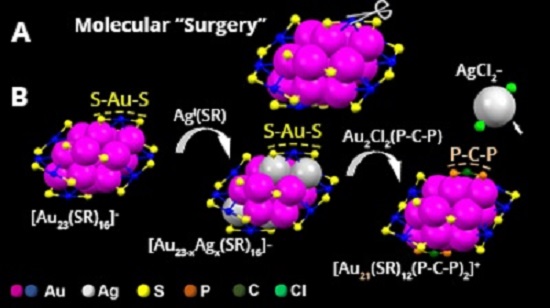 Schematic of molecular surgery on a 23-atom gold nanoparticle. Credit: Carnegie Mellon University this advance.
A team of chemists at Carnegie Mellon University, led by chemistry professor Rongchao Jin, successfully performed nano-surgery on a gold nanoparticle made up of 23 gold atoms surrounded by a protective surface of ligands in staple-like motifs. By removing two of the "staples," the team revealed structural factors that determined the particle's optical characteristics and increased its photoluminescence tenfold. Photoluminescence plays an important role in biological imaging and cancer diagnosis, among other applications.
Critical to nanoparticle surgery success is a source of nanoparticles with a consistent structure. Jin's team has developed a method that produces nanoparticles with the same number of gold atoms in every batch. By studying consistent particles, the researchers uncovered the particles' structures and how these structures affected their properties and functionality.
Jin points out that the field of nanochemistry is only about 20 years old, compared to organic chemistry, which was established more than 100 years ago. Nanochemists are racing to catch up.
"Organic chemists have been able to tailor the functional groups of molecules for quite some time, like tailoring penicillin for better medical functions, for example. We dreamed that we could do something similar in nanoscience. Developing atomically precise nanoparticles has allowed us to make this dream come true," Jin said.
Jin and his group are working on generalizing their method to other nanoparticles.