Entergy's Indian Point Unit 3 nuclear power plant returned to service May 18 following a scheduled $100 million refueling, maintenance, and inspection outage. The planned shutdown began March 13.
Among the items inspected were bolts on a removable liner inside the reactor. Specialists replaced 270 of these bolts and confirmed that the plates secured by these bolts remained structurally sound and functional. A similar number of bolts were replaced at Unit 2 in 2016 following inspections of bolts on the liner in that reactor.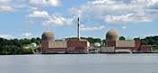 Two two-unit Indian Point station.This was the second-to-last refueling outage at Unit 3 before its permanent shut down by April 30, 2021, under a settlement agreement with New York State. Unit 2 will enter its final refueling and maintenance outage next spring before it permanently shuts down by April 30, 2020.
Unit 2 and Unit 3 generate some 2,000 megawatts of electricity. Indian Point Unit 2 began commercial operation in 1974 and Unit 3 in 1976. Entergy purchased Unit 3 in 2000 from the New York Power Authority and Unit 2 -- along with the permanently closed Unit 1 -- in 2001 from Consolidated Edison.
On January 9, as part of a settlement with New York State, Entergy announced its plan for the early and orderly shutdown of the two units at Indian Point.