Built in the U.S.A.: NYC Design Guide for Climate Resiliency
David Wagman | May 17, 2017
(Editor's note: Investment in critical infrastructure is gaining increased attention at the federal, state, and local levels around the U.S. Engineering360 presents an ongoing series of articles that look at projects, approaches, technologies, and engineering challenges that lie at the heart of this push to modernize existing infrastructure and build for future needs.)
New York City's Office of Recovery & Resiliency (ORR) released the city's first-ever Climate Resiliency Design Guidelines for capital projects.
The document was released as a preliminary draft and will be refined before its final version is published in December 2017, and offers design strategies aimed at minimizing impacts of extreme heat, extreme precipitation, flooding, and storm surges.
(Read "Chamber Survey Urges Infrastructure Action.")
The report says that codes and standards that regulate the design of infrastructure and buildings rely on historic weather data to determine how to build for the future. It says, however, that historic conditions do not accurately represent the projected severity and frequency of future storms, heat waves, and precipitation.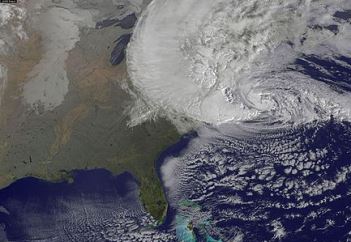 Satellite view of Hurricane Sandy on Oct. 29, 2012. (View an interactive map of NYC recovery and resiliency projects to date.)
"These preliminary Climate Resiliency Design Guidelines provide step-by-step instructions on how to supplement historic climate data with specific, regional, forward-looking climate data in the design of infrastructure and buildings."
The guidelines are intended to apply to all city capital projects except coastal protection projects such as sea walls and levees. The city plans to develop separate guidelines for those projects.
Implementing the guidelines is intended to result in protection standards that will make the city's built environment more resilient to climate change.
The New York City Panel on Climate Change (NPCC) provides regional climate projections that help to inform city resiliency policies. Climate projections encompass a wide range of possible outcomes, for example:
Mean annual temperature is projected to increase between 4.1 and 6.6°F by the 2050s and between 5.3 and 10.3°F by the 2080s.
Frequency of heat waves is projected to triple by the 2050s to 5 to 7 heat waves per year.
Mean annual precipitation is projected to increase between 4-13% by the 2050s and between 5-19% by the
2080s.
Sea level is expected to continue rising by 11 to 21 inches by the 2050s and by 18 to 39 inches by the 2080s.
The Guidelines highlight two issues for project designers to address increasing heat in the built environment.
Urban heat island reduction: Materials in the built environment absorb the sun's heat throughout the hottest portions of the day and reradiate it back into the atmosphere, driving localized temperatures even higher and increasing demands on cooling systems.
Air conditioning and ventilation equipment also push extra heat into the air, contributing to a feedback loop that increases localized ambient temperatures and impacts the health of heat-vulnerable New Yorkers. A number of "design interventions" may also provide benefits to the facility through reduced heat loading, reduced energy costs and/or improved occupant health and thermal comfort.
Cool and shade facility lots
Improve efficiency of building envelopes
Make use of green roofs and landscape elements
In addition, projects should look to integrate cooling strategies that include:
Green roofs on a broader range of facilities (including industrial buildings, storage, garages, administration buildings, etc.)
Green walls/structures (to reduce heat loading on vertical surfaces)
Shade trees, planters and vegetated structures
Bioswales, rain gardens and bioretention cells
Permeable surfaces (used for stormwater management, these retain moisture that evaporates as surface temperatures rise)
Open-grid pavement system (at least 50% unbound)
Evaluate site planning and building massing with regard to solar gain.
Minimize impact from increasing heat: increasing heat will physically impact components of buildings and infrastructure, damaging or stressing materials, electrical systems and mechanical systems at a facility. Rising temperatures will also stress energy and communications networks facilities rely upon. The guidelines offer climate data to be used to adjust and adapt heat-vulnerable components of assets.