NYC to Oil Majors: "Drop Dead"
David Wagman | January 10, 2018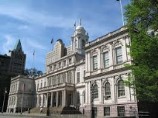 New York City's 19th century city hall. Source: NYC.gov
Mayor Bill de Blasio, Comptroller Scott M. Stringer and other trustees of the city's $189 billion pension funds announced a goal to divest city funds from fossil fuel reserve owners within five years.
The Mayor and Comptroller say they will submit a joint resolution to pension fund trustees to begin analyzing ways to divest from fossil fuel owners. In total, the city's five pension funds hold roughly $5 billion in the securities of over 190 fossil fuel companies.
The city also filed a lawsuit against the five largest investor-owned fossil fuel companies as measured by their contributions to global warming. The city will seek damages from BP, Chevron, ConocoPhillips, Exxon Mobil and Royal Dutch Shell for the billions of dollars the city claims it will spend to protect New Yorkers from the effects of climate change.
The lawsuit seeks to recover the billions allegedly needed to fund climate change resiliency measures that the city says it needs to implement. This includes physical infrastructure, like coastal protections, upgraded water and sewer infrastructure, and heat mitigation, but also public health campaigns.
To recover from past events and prepare for future ones, New York City is already executing a greater-than $20 billion resiliency program to build resilience against rising seas, more powerful storms and hotter temperatures.
In October 1975, President Gerald Ford gave a speech denying federal assistance to spare New York City from bankruptcy. The front page of the Oct. 30, 1975, New York Daily News read: "FORD TO CITY: DROP DEAD."