Finding Forest: Global Forest Cover Increases by 10%
S. Himmelstein | May 15, 2017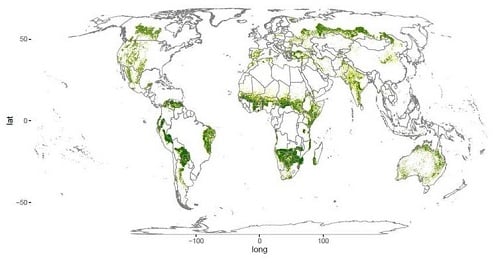 The world's drylands: forested areas shown in green; non-forested areas in yellow. Source: Bastin et al., Science (2017)
An area of previously unreported forest equivalent to 60 percent of the size of Australia has been identified by an international research team. The finding increases current estimates of global forest cover by 10 percent and may help improve the accuracy of global carbon modeling.
The additional 467 million hectares of dryland forest were revealed by use of a new photo-interpretation tool developed at the Food and Agriculture Organization (FAO), called Collect Earth. The method overcomes the limitations of automatic and often inaccurate categorization of forest types of satellite imagery by using a simple validation check for tree number and density. Data supplied by the Terrestrial Ecosystem Research Network (TERN) was crucial in providing the on-ground verification of the system.
Dryland forest was identified across all inhabited continents, and concentrated to the south of the Sahara desert, around the Mediterranean, southern Africa, central India, coastal Australia, western South America, north-east Brazil, northern Colombia and Venezuela and northern parts of the boreal forests in Canada and Russia. The differences in coverage estimates are most significant in Africa, as the estimates there have doubled.
The assessment involved analysis of high-resolution satellite images covering more than 200,000 plots. The researchers say that with its low opportunity costs, dryland forests could provide a unique chance to mitigate climate change through large-scale conservation and afforestation actions. It also shows the potential for improved livelihoods of the people in these areas.
Research participants included Université libre de Bruxelles (Belgium, Brussels), University of Leeds (Leeds, UK), Environmental Change Institute (Oxford, UK), University of Adelaide (Adelaide, Australia), Tunisia Ministry of Agriculture (Tunis), Bartin University (Bartin, Turkey), Sapienza University of Rome (Rome, Italy), Technical University of Madrid (Madrid, Spain), Swedish University of Agricultural Sciences (Umeå, Sweden), Centre Régional AGRHYMET (Niger), U.S. Forest Service (Ft. Collins, CO), Instituto Nacional di Semiarido (Bairro Serrotão, Brazil), World Resources Institute (Washington, DC), Department of Forest and Hunting Inventory of Kyrgyztan (Bishkek, Kyrgyztan) and Consejo Nacional de Investigaciones Científicas y Técnicas (Mendoza, Argentina).