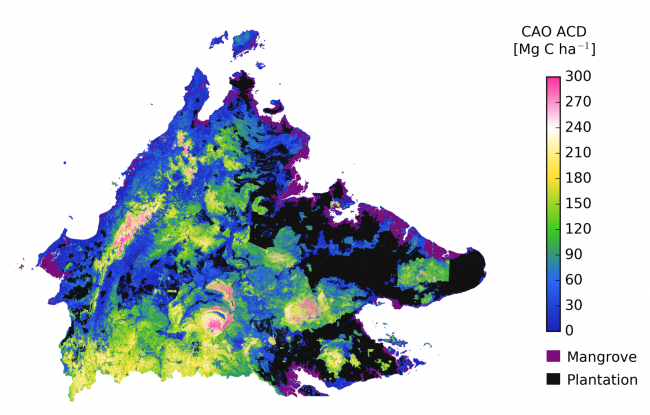 Map depicting the density of aboveground carbon stocks in the Sabah state of Malaysian Borneo. Source: Carnegie Institution for Science
Tropical forests sequester large quantities of atmospheric carbon, but when this forest land is converted to agricultural, logging or mining operations, carbon is released into the atmosphere and may contribute to climate change. Tropical deforestation and forest degradation account for about a tenth of the world's carbon emissions each year.
Determining which forest segments contain the most carbon in the form of biomass is a first step in helping governments effectively protect forests. The Carnegie Airborne Observatory, a flying laboratory developed by the Carnegie Institution for Science of Stanford, Calif., has mapped carbon stocks that, combined with satellite imaging and other geospatial data, will guide conservation efforts undertaken by the Sabah Forestry Department in Malaysian Borneo.
High-resolution maps of the region's forests were prepared by the use of airborne laser-guided imaging spectroscopy and satellite imaging, highlighting targets for conservation efforts. The initiative also identified 50 of the tallest tropical trees ever measured.
Unlogged, intact forests were found to contain aboveground carbon densities averaging over 200 megagrams (Mg) of carbon/hectare, with peaks of 500 Mg of carbon/hectare. About 40 percent of the state's carbon is contained in forests that are not protected at the highest designation. The researchers concluded that Sabah could double carbon stocks by allowing previously logged forests to regenerate, which would require about a century.
Researchers from ETH Zürich, Zürich, Switzerland; CSIRO Land and Water Flagship, Wembley, Australia; Cardiff University, Cardiff, UK; South East Asia Rainforest Research Partnership, Sabah, Malaysia; Sabah Forestry Department, Sandakan, Malaysia; Permian Global, London, UK, and University of Cambridge, Cambridge, UK, also participated in this project.
The research is published in Biological Conservation.