PEC Cell Yields Hydrogen from Polluted Air
S. Himmelstein | May 10, 2017
A single device under development by academic researchers in Belgium yields clean air and hydrogen from the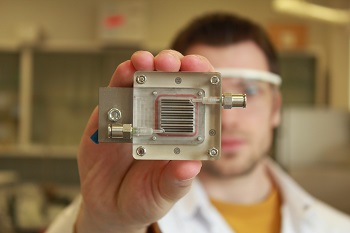 The cell produces hydrogen from volatile organic contaminated air and sunlight. Image credit: University of Antwerp and KU Leuvendegradation of volatile organic compounds (VOCs) in contaminated air.
In the all-gas-phase photoelectrochemical (PEC) cell engineered by scientists from the University of Antwerp and KU Leuven (University of Leuven), VOCs are treated and hydrogen gas is generated in separate electrode compartments. VOC oxidation occurs at the photo-anode, while hydrogen is produced at the cathode on the opposite side of a proton-conducting solid electrolyte membrane.
The system works most efficiently with organic pollutants in inert carrier gas. In the presence of oxygen, the cell performs less efficiently but still significant photocurrents are generated, showing that the cell can be run on organic contaminated air.
While current devices are on a scale of only a few square centimeters, the researchers hope to scale-up the system for industrial use. Material improvements are also expected to enable more efficient use of sunlight to trigger the reactions.
The research is published in the journal ChemSusChem.