Sponsored content
As a manufacturer of fume hoods, AirClean® Systems understands that designing and maintaining a laboratory can be a difficult task. Whether designing a new laboratory or updating an existing one, laboratory managers need to consider safety, efficiency and cost- effectiveness when deciding on a fume hood design. Increasingly, ductless fume hoods, (also known as filtered fume hoods) are being recognized as a preferred solution for laboratory processing needs.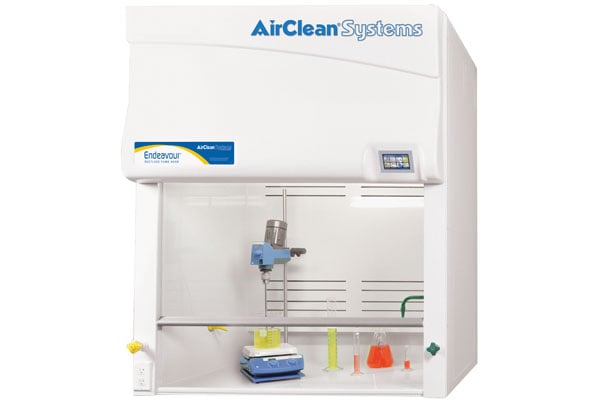 In the past, ducted fume hoods dominated the market because of their ability to fill multiple roles and their ability to handle even the most intensive laboratory processing needs. In a sense, because of their industry acceptance, ducted fume hoods have become the expensive, inefficient status quo. However, in an increasingly competitive market, filtered fume hoods offer laboratory managers a versatile, effective solution for many of their laboratory processing challenges.
Let's start with the obvious: Ducted fume hoods are expensive to install. When designing a new laboratory, ductwork and location of the hoods must be predetermined since they are immobile once installed. If the laboratory processing needs change in the future, it becomes very expensive to move or add ducted fume hoods. Naturally this leads to a more generic, less strategic laboratory design. Contrast that with a laboratory that utilizes filtered fume hoods. Filtered fume hoods are mobile, so laboratory floor plans can be more reactive to processing needs. When a laboratory needs to be redesigned for a different application, or expanded for additional processing needs, filtered fume hoods are far less expensive to add since new ductwork doesn't need to be installed. Finally, an underestimated benefit comes from building heat/cooling loss. Filtered fume hoods can save a laboratory thousands of dollars a year by not venting heated/cooled air out of the building.
This is not to say that filtered fume hoods should completely replace ducted fume hoods in a laboratory. Clearly there are some intensive applications where ducted fume hoods are the obvious solution. However, for many applications filtered fume hoods perform just as well as ducted fume hoods and AirClean® Systems is prepared to work with the laboratory manager to determine which applications are appropriate. The technology behind filtered fume hoods has significantly evolved over the past half century. It starts with filtration. Filtered fume hoods utilize two types of filters, High-Efficiency Particulate Air (HEPA) filters and Activated Carbon Filters. HEPA filters remove a minimum of 99.97% of all particles that are 0.3 micron in size or larger from the air as the air passes through the filter. This removes fine powders, pathogens, microbes, aerosols and mists.
The activated carbon filters use adsorption to entrap chemical gases and vapors such as Volatile Organic Compounds (VOCs), which include alcohols, ketones, and hydrocarbon solvents. AirClean® Systems manufactures their activated carbon filters on site to guarantee the highest quality. Their proprietary bonded carbon panels do not emit carbon dust and are clean room friendly. The bonded carbon design also avoids the formation of dead spots in the filter for more reliable performance AirClean® Systems uses virgin coconut shells as their carbon source, which produces a high ratio of micro to meso pores, making them very effective adsorbers.
For processing needs involving molecular weights below 40 Daltons or involving molecular structures that don't lend themselves well to adsorption, AirClean® Systems offers impregnated activated carbon filters that use chemiosorption. The activated carbon is impregnated with specifically selected reactive agents that bind the chemical of interest such as HCl and other mineral acids, ammonia and low-molecular weight amines, formaldehyde, hydrogen sulfide, etc., for an effective, targeted solution.
In addition to the filters described above, filtered fume hoods utilize a series of sensors to monitor fume hood conditions. AirClean® Systems' filtered hoods employ a sensitive organic vapor sensor to detect breakthrough.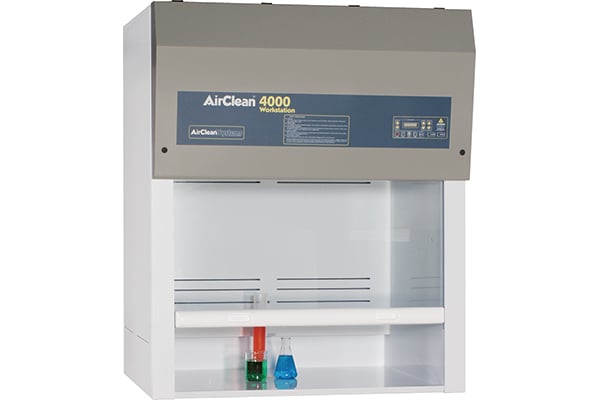 Breakthrough alarm points based on the application are standard and when triggered, an alarm sounds to alert the operators. An electronic airflow sensor, standard on all AirClean® Systems' filtered hoods, varies face velocity based on changing environmental conditions.
AirClean® Systems filtered fume hood offerings include everything from standard laboratory solutions to the pinnacle of monitoring technology, the Independence™. The Independence™ is unmatched by any other ductless product in the industry. It includes multimethod gas detection with PPM read out, airflow monitoring and alarms, dual zone temperature monitoring, safety glass sash monitoring, switched burning gas and electrical outlets, a photoionization detector (PID), acid sensor, and organic vapor sensor monitor within advanced Silconazyne™ filters, at the filter exhaust and in the room itself. Approved chemical applications and installed filter type are programmed with appropriate settings during factory QA/QC, to fully utilize the filtered fume hood safely and efficiently. The intuitive Independence™ touch screen controller allows users to enter their chemicals and application and go to work. Additional chemicals and applications can be added as needed.
AirClean® Systems also offers bonded carbon filters that are manufactured to the specific chemicals used in the customer application. Versatility in filter design allows choice of bonded carbon for VOCs only, or any combination of VOC and impregnated bonded carbons. Safety comes first with AirClean® Systems, so if a filtered fume hood doesn't meet strict internal performance standards, another fume hood design, such as ducted, will be recommended. If a filtered fume hood is a viable solution, AirClean® Systems will check back yearly to make sure the hood is performing as designed and that modifications don't need to be made. Once you own an AirClean® Systems hood you have a partner for life.
As laboratories evolve, they need to be versatile to stay competitive. The old solution of fixed ducted fume hoods is not designed to meet the challenges of an increasingly efficient marketplace. Ductless/filtered fume hoods offer a targeted solution for laboratory managers' processing needs. Whether as an addition to an existing laboratory, or as part of a more flexible laboratory, filtered fume hoods adaptability and reliability make them the ideal choice for many laboratory needs and AirClean® Systems is ready to work with laboratory managers to help them discover how filtered fume hoods can advance their laboratories into the 21st century.