A Low-cost, Sustainable Material for Reducing Air and Water Pollution
S. Himmelstein | March 20, 2018
Activated carbon has long been the material of choice for reducing wastewater and air pollution. A new class of low-cost and sustainable hybrid materials developed by a research team in Italy could possibly displace this gold standard adsorbent. The material is synthesized inexpensively from solid wastes and a naturally abundant polymer and is more effective in controlling air and wastewater pollutants.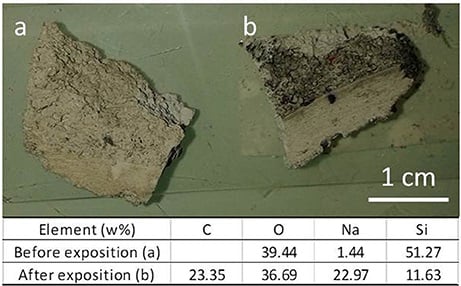 New porous material, before (a) and 15 min after (b) exposure to exhaust fume of a diesel car. Source: 2018 Zanoletti, Vassura, Venturini, Monai, Montini, Federici, Zacco, Treccani and Bontempi, Frontiers in ChemistryThe porous hybrid material, which can be 3D printed, is obtained by combining a naturally abundant raw material, sodium alginate (a polysaccharide that can be extracted from seaweed and algae) with a high-volume industrial by-product, silica fume (a by-product of ferrosilicon or silicon metal alloy processing). The synthesis method is simple and easy to scale up. Taking advantage of the gelling properties of alginate, the researchers combined it with the decomposition of food-grade sodium-bicarbonate (baking soda) to consolidate the material. Testing of wastewater pollution was performed using methylene blue dye as a model pollutant. The hybrid material adsorbed and removed the dye, even at high concentrations, with 94 percent efficiency.
Compared with activated carbon, production of the hybrid material consumed less energy ("embodied energy") with a much lower carbon footprint. The material also demonstrated promising capabilities for trapping diesel exhaust fume particulate matter.
Scientists from the University of Brescia, University of Bologna, INSTM Trieste Research Unit and ICCOM-CNR Trieste Research Unit, and Petroceramics Spa contributed to this research, which is published in Frontiers in Chemistry.