Distributed Solar PV Set for Commercial Offices
David Wagman | May 09, 2017
California-based Kilroy Realty Corp. and New Jersey-based Nautilus Solar Energy LLC plan to develop solar energy projects across nine of Kilroy's "class A" office properties in California.
The solar developments will total 5.2 megawatts DC when complete. They will consist of solar carport and rooftop arrays located at Kilroy's commercial office properties in San Diego, San Francisco, Menlo Park, and Long Beach.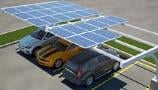 A carport with solar PV canopy(Read "How Does Solar Energy Work: PV Basics.")
Work is planned to start during the second quarter with most of the sites reaching final completion during 2017. A rooftop solar array on a newly constructed building is expected to be completed by early 2018.
Nautilus focuses on acquiring, developing, executing, and managing distributed and utility-scale generation solar projects throughout North America. Over its 10-year history, Nautilus has invested in more than 125 MW of solar projects.
Kilroy Realty Corp. is a publicly traded real estate investment trust Its portfolio totaled some 14 million square feet of office space and 200 residential units.