Amazon and Home Depot Add More Rooftop Solar
David Wagman | May 30, 2018
Amazon and Home Depot are adding to their deployment of rooftop solar photovoltaic generating capacity.
Amazon announced that work is under way on a 1.1 megawatt solar rooftop installation on its North Las Vegas fulfillment center. The project is Amazon's second in Nevada, and its seventeenth rooftop solar installation over the past 14 months in the U.S.
The company has a goal to install at least 50 rooftop solar systems globally by 2020. Amazon's North Las Vegas project sits atop an 813,000-square-foot roof and consists of 3,145 solar modules. Amazon says that it now has 28 wind and solar energy projects across the U.S.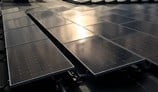 (Click to enlarge.) Solar array on Home Depot store. Credit: Home DepotAnd in Washington D.C., Home Depot, local utility Constellation and GE completed a 554 kilowatt (DC) solar generation project, one of the largest single rooftop arrays in the nation's capitol. The array is expected to provide 35-40 percent of the store's annual energy use.
The home improvement retailer will buy the electricity generated by the system through a 15-year power purchase agreement with Constellation. GE's Solar Development team designed the project, led the construction process and will be responsible for operating and maintaining the 1,400 LG photovoltaic panels.
Constellation plans to install 7 megawatts of solar generation in the District of Columbia.
Companies like Target, Kohl's and Costco are investing in solar in record amounts, according to a recent report from the Solar Energy Industries Association, which tracks on-site commercial solar installations and ranks top corporate solar users.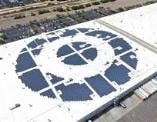 Solar array on a Target retail store. Credit: TargetBy adding more than 40 MW of solar in 2017, Target earned the top spot in the report for the second year in a row. The big-box retailer now has 204 MW of installed solar capacity. The retailer has a goal to install rooftop solar panels on 500 buildings by 2020.
In addition to Target, the top 10 corporate users of solar energy according to the SEIA report are Walmart with 149 MW of installed capacity, Prologis with 121 MW, Apple with 79 MW, Kohl's with 51 MW, Costco with 51 MW, General Growth Properties with 50 MW, IKEA with 45 MW, Macy's with 35 MW and Amazon with 34 MW.
The top corporate users named in the report added 325 MW of installed solar capacity in 2017, an increase of 43 percent over 2015.
Amazon's recently announced renewable energy projects include solar arrays on fulfillment center rooftops in California, Maryland and New Jersey, as well as wind farms in Indiana, North Carolina, Ohio and Texas. To date, Amazon has announced or commenced construction on projects that will generate a total of 3.6 million megawatt hours of renewable energy.