Advanced Tension Indicator Helps Equalize Web Tension
Shawn Martin | May 01, 2017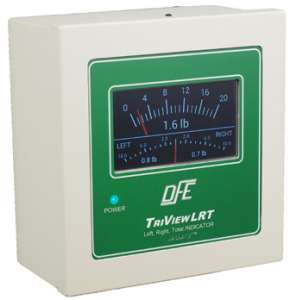 Image credit: Dover Flexo Electronics, Inc.
Dover Flexo Electronics' TriView™ Left-Right-Total Tension Indicator helps machine operators equalize web tension with balance indication and left, right or total tension displayed on a large, bright LCD touch-screen display.
TriView accepts feedback from a pair of tension transducers or Dover Flexo Electronics' own Tension Roll® transducer. The device continuously displays total tension digitally as well as on a simulated analog scale. Users can select either left or right tension, or balance indication at the tap of a finger.
The device can be interfaced with control systems for automatic control of tension via three isolated outputs or otherwise manual adjustments can be made with the reliable, easy to read tension indicator.
The TriView™ LRT indicator features a 5" touch-screen display, limit switch settings, two solid state relays, a panel-mount or NEMA 1 wall-mount steel enclosure and is covered by DFE's five-year warranty.