Isolated High Voltage Outputs Directly Proportional to Input Voltage
Shawn Martin | May 01, 2017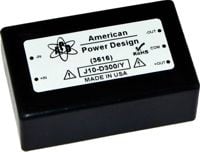 Image credit: American Power Design, Inc.
American Power Design's J10 Series high voltage DC/DC converter offers an isolated output of up to ±6000 VDC that is directly proportional to the input voltage.
DC/DC converters are typically available with discrete output voltages. The J10 Series allows the customer to select the output voltage. The 10 Watt unit features dual outputs, industry standard pinouts and an LC Network input filter to help minimize the reflected ripple current.
It has a wide temperature range of -20° C to 85° C, a switching frequency of 60 kHz and temperature stability of ±0.05%/°C. The device also has continuous short circuit protections, is designed to meet UL 60950 and is available in an RoHS compliant version.