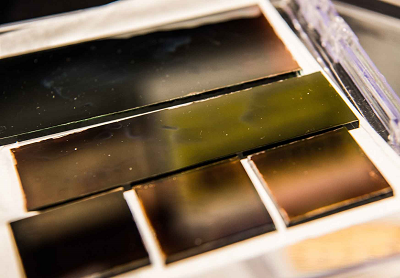 Samples of solar cells grown using a new perovskite ink. Image credit: Dennis Schroeder
One of the most promising developments in the field of solar energy in recent years has been the synthesis of perovskites, a class of materials that displays properties making them ideal building blocks for solar cells.
Named after 19th-century Russian mineralogist Lev Perovski, naturally-occurring perovskite is a calcium titanium oxide material that was discovered in Russia's Ural Mountains in 1839. Synthesized perovskites have the same crystallographic structure as the mineral and possess an array of scientifically-significant properties depending on what materials are used to create them.

Perovskite solar cells include a light-harvesting active film layer made from a perovskite-structured compound, commonly a hybrid organic/inorganic lead or tin halide-based material. The broad absorption spectrum of these materials allows them to react to various wavelengths of light and thus convert more sunlight into electricity.

A major roadblock to the commercial development of perovskite solar cells, however, is scalability. To create a perovskite film, a coating of chemicals is deposited on a substrate and heated to crystallize the material. One crucial step in this process is the addition of an antisolvent to extract the precursor chemicals; the window for this step opens and closes within seconds, requiring a precision that has thus far only been achieved with a non-scalable, laboratory-style spin coating method.
But scientists at the U.S. Department of Energy's National Renewal Energy Laboratory, or NREL, have overcome this obstacle through the development of a precursor ink that keeps the window open for as long as eight minutes. In their
paper
published in
Nature Energy
, they describe the ink as a chlorine-containing methylammonium lead iodide formulation that enables a wide precursor-processing window and rapid growth rate to deliver high-quality films with large-scale uniformity. The ink can be used by both spin-coating and blade-coating methods, the latter of which can be easily scaled up.
This research is supported by DoE's
SunShot Initiative
, a national effort to drive down the cost of solar electricity and support solar adoption.