Video: Paper paves the way to perovskite solar cell production
S. Himmelstein | February 07, 2022
Perovskite solar cell fabrication typically entails reliance on spin coating methods to guarantee control of film thickness and morphology. This process requires expensive equipment, is wasteful of precursor inks and other materials, and is difficult to implement at commercially viable scales. A simpler recipe devised by researchers from University of Zanjan (Iran) and University of Rome Tor Vergata (Italy) uses a simple sheet of paper to deposit perovskite films without a spin coater or other large area techniques such as slot-die coating or blade coating.
The Deposition via an Antisolvent Soaked Applicator (DASSA) method deposits perovskite precursor solution on a heated substrate. A paper applicator is soaked in anti-solvent, which almost doubles efficiencies compared to when using it dry. Relative to other soft applicators, paper possesses the appropriate porosity and smoothness for deposition of high-quality perovskite films.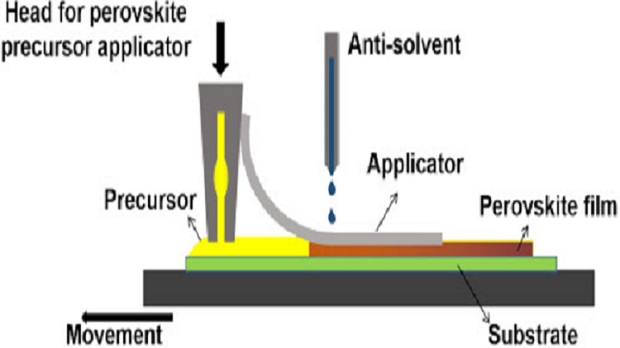 Schematic showing a potential implementation of DASSA for automated industrial purposes. Source: Thomas M. Brown et al.
As the applicator rather than the perovskite film is soaked in antisolvent, the amount of solvent is reduced, and no gas flow is required. This potentially scalable method produces uniform pinhole-free perovskite films by use of ethyl acetate, which is considered a green antisolvent. A power conversion efficiency of 6.7% was measured in flexible solar cells fabricated at temperatures ≤125° C with a dry applicator. Soaking the paper applicator in the green antisolvent boosted this efficiency to 11.1% for an 82% gain.
The films produced with the DASSA process outlined in iScience produced double cation perovskite films with improved uniformity and crystallinity.