Clippards DR-2 Series precision regulators are now achieving exceptional repeatability (± 0.15 psi) and increased accuracy. The sleek, durable valve is offered in either a pressure relieving or non-pressure relieving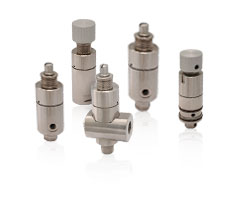 Image Credit: Clippard Instrument Laboratory, Inc. version, features a non-rising internal adjustment and was designed for applications where zero air consumption is required (non-bleed).
Materials of construction include an electroless nickel plated brass body, FKM seals, PFPE lube, with a stainless steel adjustment screw and spring. The relieving version is designed to maintain a constant output pressure while the non-relieving version is compatible with liquid fluid medium.
The product line was first introduced as the MAR-1 Series in 1962 and has been renowned in its exceptionally long life. The redesigned simple, robust, and cost-effective regulator maintains the same flow and performance characteristics while providing greater accuracy and repeatability.