Consolidated launches the first dual media certified safety relief valve
Diana Aoun | March 16, 2021
Consolidated, a Baker Hughes subsidiary, has revealed its new 1900 series dual media (DM) spring loaded safety relief valve (SRV) with patented trim. The new series is designed to perform on both liquid and gas media and has dual certification (liquid and gas) nameplate capacity stamping in accordance with ASME BPVC (Boiler and Pressure Vessel) Code Case 2787.
The 1900 DM series is the first and only spring-loaded safety relief valve in the industry that is "dual certified." Dual certified means the valve is both vapor/gas and liquid flow certified without making any modifications or adjustments to the relief device when switching fluids during the flow testing. It is without question, the first in its class.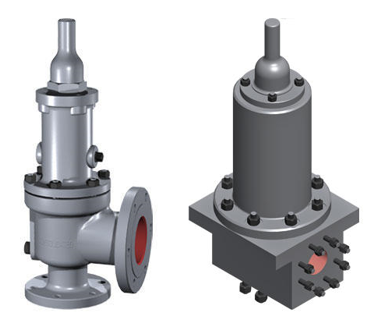 Source: Baker Hughes
Most safety/pressure relief valves (SRVs/PRVs) that are set on liquid media will pop up to 5% lower when encountering gas. This often leads to premature leakage and opening during a gas relief scenario. The 1900 DM SRV, however, has set pressure performance and delivers stable, chatter free, opening and closing while relieving gas, liquid or two-phase mixtures.
Unlike conventional (certified) PRVs, which have typical gas blowdown rates of 25% or 30%, the 1900 DM has exceptional blowdown performance for liquid, gas and two-phase mixtures. The 1900 DM blowdown performance for gas/liquid media is less than 15% for O-ring seat and D/E/F orifice metal seat models. With the G-W orifice metal seat blowdown performance is less than 10%. This reduces the loss of valuable process media, reduces fugitive emissions and provides stable process performance.
The 1900 DM also features a patented Cryodisc design that delivers superior seat tightness performance in low temperature (cryogenic) applications. It can handle a massive temperature range of -267.8° C to 815.6° C (-450° F to 1500° F) and has pressure ratings ranging from 0.28 barg to 689.5 barg (4 psig to 10,000 psig). Standard models come in a carbon steel body with stainless steel trim, with additional optional materials available depending on application requirements.