Denver Smart City Project Plugs Into Solar
David Wagman | April 12, 2017
Denver International Airport added 800 parking spaces, including 609 spaces covered with solar canopies tied to a microgrid system that is part of a public-private partnership that involves local utility Xcel Energy and Panasonic.
The 1.3 megawatt solar system will help power the Panasonic Enterprise Solutions corporate office building next to the parking lot. A 1 MW/2MWh lithium ion battery storage system will help power an electric microgrid at site, which is located along an electric train between the airport and downtown Denver.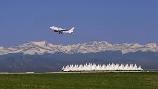 The new parking lot also includes access to 11 Level-1 electric vehicle charging stations.
"Panasonic's smart city technology will be a catalyst for future sustainable growth in Denver, and we're excited to see those efforts taking shape at the 61st & Pena Station," Denver Mayor Michael B. Hancock said in a statement.
A second initiative is the deployment of Smart LED Streetlights at the airport. These lights will be powered by solar cells, and are designed to brighten when there's foot traffic and dim when there's no activity.
The Denver development is a second smart city project being backed by Panasonic. A project in Fujisawa, Japan, is being built on the former site of a factory, and includes housing and renewable energy systems that can provide off-grid power for up to 3 days. It also features EV charging stations, security systems, and smart home technology.