Drone Inspectors Take On Live Flare Stacks
Engineering360 News Desk | March 19, 2017
A pilot program underway by GE Oil & Gas is exploring the deployment of ground- and air-based robots or drones equipped with sensors to check oil refinery flare stacks while they are still active.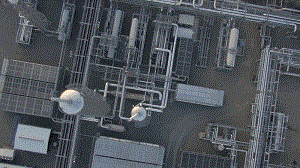 Data returned by drones enables operators to create a 3D model and track changes over time. Image credit: GE Oil & GasMonitoring stacks to ensure regulatory compliance and structural integrity is a dangerous, time-consuming, and expensive endeavor. Traditionally, these types of assets are inspected only after the asset and related systems must be shut down, allowed to cool, and prepared for inspection during a downtime period often measured in weeks.
These robots can take readings and video footage of a variety of industrial assets. The data is then processed through a series of inspection algorithms and also made available to an inspector, who can choose to be on-site or seated in a monitoring room.
The data can be used to create a 3D model of the asset and track changes over time through subsequent inspections. For example, operators can determine if a piece of metal is starting to expand or buckle or if a miniscule crack is growing.
Robotic inspections can be performed more frequently since they don't require a complete plant shutdown entirely. GE estimates drones and other robots can cut the amount of time needed to provide inspection by as much as 50%, depending on the assets being inspected.