Ondas Holdings announces new capabilities for the oil and gas industry
Engineering360 News Desk | August 16, 2022
Ondas Holdings Inc., a provider of private wireless data, drone and automated data solutions through its wholly owned subsidiaries, Ondas Networks Inc. and American Robotics, Inc., announced that American Robotics has added new capabilities to its autonomous Scout System drone to enable current and future oil and gas customers to automate visual inspection of oil and gas facilities and assets. The new high-resolution RGB and thermal camera payloads will facilitate frequent, high-value inspections of upstream and midstream oil and gas assets.
"The addition of these new features to the Scout System expands American Robotics' competitive differentiation within the autonomous drone-in-a-box (DIB) market," said Reese Mozer, co-founder and CEO of American Robotics. "Our oil and gas customers have worked closely with us to identify new features that allow them to transform operations, reduce costs, and increase safety by automating inspections so human operators do not have to be present on-site. This exciting advancement is an example of how American Robotics continues to grow its market-leading presence in the oil and gas sector."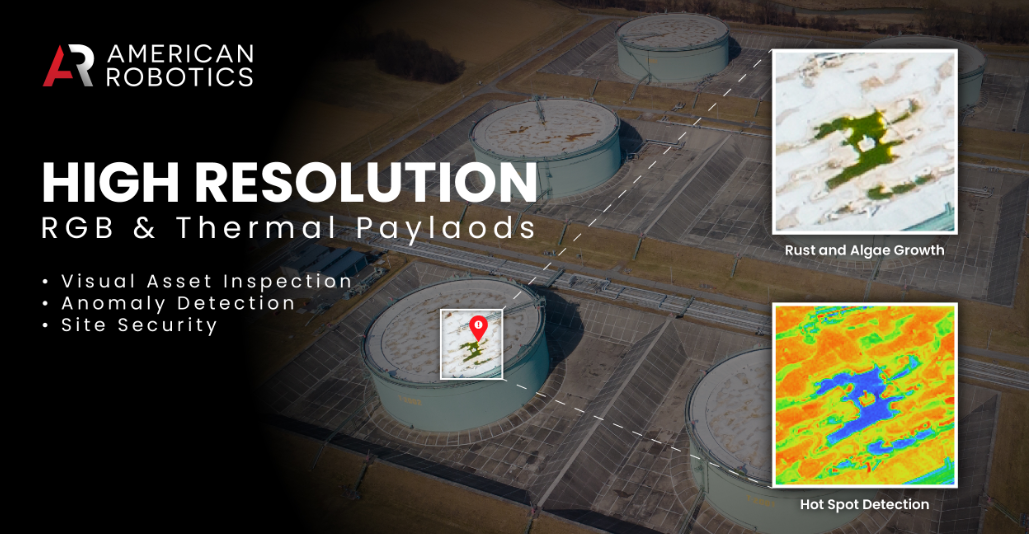 Source: Ondas Holdings
The latest RGB and thermal camera features enhance American Robotics' market-leading automated, FAA-approved Scout System with purpose-built capabilities for the oil and gas industry, allowing oil and gas customers to perform frequent inspections of assets, such as pumpjacks, heater treaters, tanks, flare stacks, pipes, pumps and electrical infrastructure, while simultaneously increasing profitability by reducing operating expenses. Enhanced imaging capabilities will help safeguard the environment with frequent, automated inspections while also accelerating the digitization of physical assets through the use of imaging and artificial intelligence to identify critical infrastructure issues.
In the U.S. alone, there are over 900,000 oil and gas well pads and over 500,000 miles of pipeline that will require continuous inspection and monitoring. Globally, American Robotics predicts a $22 billion TAM value for the DIB market within the oil and gas industry. The announcement further positions American Robotics as the market-leading autonomous DIB solution for the oil and gas segment. Enhanced features and continued business growth will support American Robotics in terms of revenue growth while expanding its competitive differentiation within the commercial drone industry by combining oil and gas specific capabilities with its FAA approval for fully automated operations beyond visual line of sight.
The high-resolution RGB camera and high-resolution thermal camera will be available to American Robotics customers via the Scout System in Q3 2022. To learn more about American Robotics and its Scout System drone, visit their website.