Acoustofluidic Chip Sounds Out Biomarkers
Engineering360 News Desk | February 20, 2017
An acoustic whirlpool device that uses only sound to concentrate nanoparticles may pave the way for designing compact, low-cost diagnostics for isolating biomarkers from biological fluids.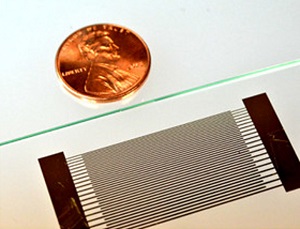 The acoustic transducer creates a whirlpool in the blue capillary tube that concentrates nanoparticles. Source: Duke University
A small acoustic transducer designed by Duke University engineers is paired with a glass cylinder to manipulate the effects of acoustic streaming and acoustic radiation, the two component forces of sound waves. The 5 V acoustofluidic chip generates single vortex acoustic streaming inside a glass capillary by using low-power acoustic waves. The single vortex acoustic streaming and the acoustic radiation force enrich submicrometer- and nanometer-sized particles in a small volume.
A standing vortex created along the cylinder's axis draws in particles suspended in the test liquid – which could be blood or urine; these are kept in place by the acoustic radiation.
The researchers plan to design a portable diagnostic device that can autonomously separate biomarkers from samples. Biomarkers could be sufficiently concentrated to analyze with a smartphone camera.