Offshore Wind Turbine Uprated to 9 MW
Engineering360 News Desk | February 02, 2017
An upgraded version of the Vestas 8 MW V164 platform enables the offshore wind turbine to reach 9 MW under specific site conditions.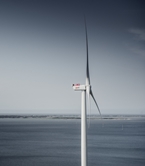 The uprated 8 MW platform will reach 9 MW output under specific site conditionsMHI Vestas Offshore Wind says that a prototype at the Osterild test site in Denmark set a 24-hour generation record for a commercially available offshore wind turbine of 216,000 kWh (actual figures 215,999.1 kWh).
The increased energy production per wind turbine will add greater value for many projects and save on capital expenditure (CAPEX) costs as fewer machines will be needed to meet a given wind farm capacity.