Watch: Vestas crowned with largest offshore wind turbine title
S. Himmelstein | February 12, 2021
Danish wind turbine developer Vestas is going big with the introduction of the V236-15.0 MW offshore turbine, which offers a swept area exceeding 43,000 m2, the largest in the world.
The V236-15.0 MW is designed to produce around 80 GWh/year, enough to power around 20,000 European households and save more than 38,000 tons of carbon dioxide, the equivalent of removing 25,000 passenger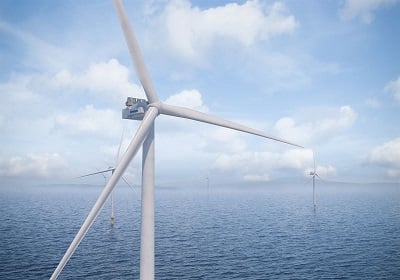 The offshore wind turbine features the industry's largest swept area. Source: Vestascars from the road every year. With three 115.5 m blades, the offshore turbine offers 65% higher annual energy production than the V173-9.5 MW, and for a 900 MW wind park it boosts production by 5% with 34 fewer turbines. Excellent partial-load production results in a more stable energy production, and a capacity factor over 60% depending on site-specific conditions.
The turbine is engineered for high wind conditions and rated to withstand IEC 1 extreme wind conditions up to 50 m/s and IEC T up to 57 m/s. A 13.6 MW operational mode is also available if required for project optimization. The gearbox-based drivetrain offers a balanced, scalable and efficient technology platform to support expanded offshore wind energy generation.
The first V236-15.0 MW prototype is expected to be installed in 2022, while serial production is scheduled for 2024.