What if the need for cold storage was eliminated? A solution based on nanoparticle technology has been developed by scientists from Washington University in St. Louis, MO, and U.S. Air Force Research Laboratory, OH.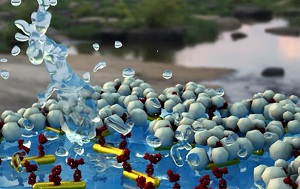 New nanoparticle technology eliminates the need for cold storage in some medical diagnostic tests. Source: Washington University in St. Louis
In previous bio-diagnostic research, the Washington University team investigated gold nanorods, measuring changes in their optical properties to quantify protein concentrations in bio-fluids: the higher a concentration, the higher the likelihood of injury or disease.
In this new research, metal-organic frameworks (MOFs) were grown around antibodies attached to gold nanorods. The crystalline MOFs formed a protective layer around the antibodies and prevented them from losing activity at elevated temperatures. The protective effect lasted for a week even when samples were stored at 60°C, and the protective MOF layer can be quickly and easily removed from the antibodies with a simple rinse of slightly acidic water, making a diagnostic strip or paper immediately ready to use (see video).
The researchers say this approach would allow point-of-care screening for biomarkers of diseases in urban and rural clinical settings where immediate patient follow-up is critical to treatment.