Hydraulic Control Valve for Fire Suppression
Engineering360 News Desk | December 22, 2016
Victaulic launched the Series 800Y Hydraulic Control Valve Family, the latest of the 800-series hydraulic control valves for fire protection applications.
The company says the valve will fill the need for constant, controlled pressure in fire suppression systems. A Y-pattern globe valve body has optimized flow technology, reducing friction loss, the company says. Its design increases flow capacity by up to 40%.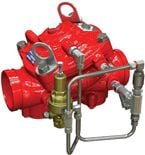 Credit: VitaulicThe company says the Series 800Y valve body is intended for high-rise and high-demand buildings and has proven to be a more durable, user-friendly option for commercial applications.
The valve's rolling elastomeric diaphragm automatically adjusts to throttle flow to a concentrated area. The company says this enables the system to stay operational during low flows, which minimizes the pulsing of water flow. The reduction in water hammer improves valve operating life and minimizes noise.
A four-bolt cover plate allows for removal without detaching the control trim. The company says this streamlines what would otherwise be a more time-intensive maintenance process. It says these elements minimize service downtime to five minutes and eliminate the potential for contamination or damage of internal components.