The Masoneilan 35002 series Camflex rotary control valve from Baker Hughes
Diana Aoun | November 10, 2021
Baker Hughes has presented a truly universal rotary globe control valve with the Masoneilan Camflex, designed for exceptionally superior control for the most basic to the most challenging operating environments. Featuring an eccentrically rotating, double offset plug that "CAMs" into and out of the seat, this camming action eliminates friction throughout its rotation due to the plug's movement away from the seat as it opens. The unique operating mechanism sets the Camflex apart from other rotary valve types, ensuring precise control at all openings.
The plug is offset so that its trailing edge will contact the seat ring first when closing. The additional plug rotation causes the plug arms to slightly bend, moving the plug face into full contact with the seat, and ensuring tight lasting seating along with smooth seating action.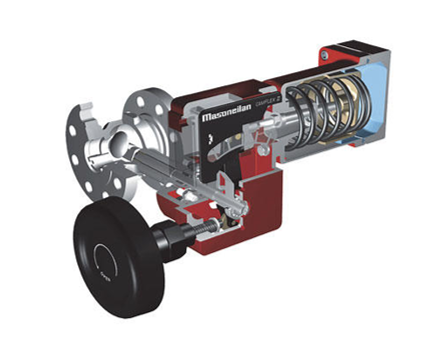 Source: Baker Hughes
Thanks to the Camflex's linear flow characteristic, the valve delivers a coefficient of variation ratio of 100:1 for stable operation over a wider range of flows when compared to traditional globe control valves that typically offer a 50:1 ratio.
The integrally cast extension bonnet provides effective heat radiation in high temperature applications. This enables the use of low-friction TFE packing materials across the full rated service temperatures of 196˚ C to 400˚ C (-320˚ F to 750˚ F). Optional graphite-based packing is also available for fire-safe applications.
The Camflex also outperforms tradition globe control valves when it comes to fugitive emissions. The integral bonnet design also ensures the Camflex completely eliminates emissions from the bonnet joint. The Camflex also comes standard with the EF Seal, low emissions packing system which minimizes packing leakage and satisfies FCI 91-1 (EPA) requirements.
The hard-faced or solid Stellite plug is designed to resist erosion and comes standard in every Camflex valve with optional seat rings and retainers available for erosive applications. Additionally, the guide bushings are located outside flow stream to prevent impingement of damaging debris on critical surfaces.
Thanks to flexible body options, the Masoneilan Camflex is easy to install and maintain and is available in threaded, flangeless or flanged ends depending on pipe connection requirements. Camflex valves are much smaller and lighter than globe valve products – typically half the size and half the weight and is available in sizes DN25 to 400 mm (1 inch to 16 inches).