New flow control valve to be showcased at Bauma 2019
Shawn Martin | March 11, 2019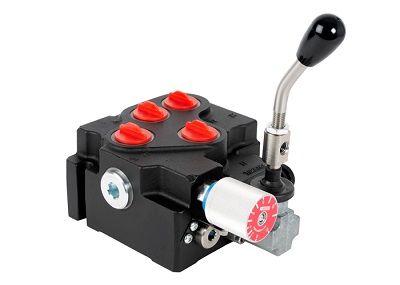 CV120 Combination Valve - variable priority flow divider with directional control | Source: Webtec Products, Ltd.The leading trade show for the construction, building material and mining machine industry is set to debut April 8 and Webtec will be there to showcase their new CV120 combination valve for hydraulic systems.
The CV120 series hydraulic valve from Webtec combines a variable priority flow divider with a directional control valve in a single body. It is presented as a complete hydraulic motor control solution for mobile machinery.
The compact footprint of the CV120 helps alleviate space constraints while the single piece construction acts to reduce pressure drop across the flow control valve. The device features a clearly marked single-turn hand dial, a hardened alloy steel spool and three-position spring-centered or detent control with a full flow pilot-operated relief valve. It has two pump inlets and two tank outlets to facilitate installation with the ability to mount several valves in series when accompanied by a high-pressure carry-over coupling and standard fittings.
The CV120 valve has a maximum operating pressure of 3000 pounds per square inch (psi), a total flow capacity of 32 gallons per minute (GPM) and regulated flow capacity of 25 GPM. It is available with 3/4 in British standard pipe parallel (BSPP) or 1-1/16 in -12UN #12 SAE O-ring boss (ORB) threaded ports with additional thread sizes available by special request.