Sensor Technology Could Prevent Infant Deaths
John Simpson | November 25, 2016
Two Harvard University students have developed sensor technology and a mobile app to warn caregivers when babies are in danger of being left alone in car seats.
"Sensors are being used in so many other situations, like notifying people that the milk container in their fridge is empty," says Risham Dhillon, a computer science concentrator who co-founded start-up company Chirp with Phoebe Stoye, a neurobiology concentrator, to market the technology. "We wondered why sensors weren't being applied to this public health issue."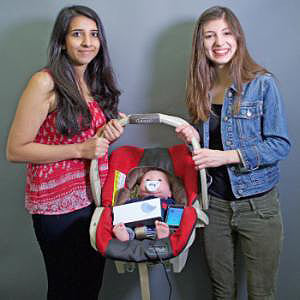 Harvard students Risham Dhillon, a computer science concentrator (l), and Phoebe Stoye, a neurobiology concentrator, stand with a prototype of their child seat sensor/app technology. Image credit: Adam Zewe/SEAS Communications.The system involves a pressure sensor that can be installed under the lining of a car seat. An Arduino circuit board connected to the sensor synchronizes with the Chirp app on a parent's mobile phone. When the pressure sensor is activated by the baby's weight, the parent's phone will repeatedly vibrate and beep if he or she walks far enough away from the car seat.
The system uses low-energy Bluetooth technology to activate the mobile phone and also to measure signal strength between the phone and sensor, which is how Chirp determines that a parent has walked too far.
"The beauty of this system is that it is so simple," Stoye says. "We wanted to develop a solution that has a low enough price point, so it can be made available in as many car seats as possible."
The two students are now working on a new feature that will allow the system to connect to more than one mobile device. They are also looking to incorporate SMS text messaging service functionality so that a different emergency contact can receive text message alerts from Chirp.
One problem the team is trying to tackle is the issue of phones running out of battery and not connecting to the sensor. A caregiver might not notice that the battery has run out of charge and the phone is no longer connected to the car seat, creating a potentially dangerous situation. By sending a text message to an emergency contact, Chirp could alert a different caregiver that the baby has been left in the car seat.
After further refinement of the prototype, the students plan to reach out to car seat manufacturers about incorporating the technology into their products.