12 Volts: All the 12-volt Car Accessories You Could Ever Want
Ken Thayer | August 21, 2017
For most people, the 12-volt outlet in your car is where you plug in the USB charger for your mobile phone or GPS. However, this is just scraping the surface of what is available for 12-volt car accessories. It seems that this convenient receptacle can be used for just about anything you could want. If you can think of an application, somebody makes a product for it. It would be impossible to capture all of the accessories on the market, but here are some you probably didn't know you needed.
The Basics
These are the accessories almost everybody is familiar with — USB chargers, socket splitters, GPS navigators, and radar detectors.
Probably the most common 12-volt car accessory today is the USB charging port. You never need to worry about being stranded in the middle of nowhere with a dead cell phone as long as you have a USB charging port and cable. Chargers are available with anywhere from one to six ports. Chargers with one to four ports can be built into the 12-volt plug, while chargers with five or more ports are typically corded. When it comes to USB chargers, there are hundreds of options available, such as the options below available on Amazon.com. From left to right, they are the Lihan Dual USB Car Charger with LED Display Voltage for $9.59, the Anker 48W 4-Port USB Car Charger for $16.99 and the Jelly Comb 6 Ports 65-watt/13-amp Lightning Car Charger for $14.99.
From left to right: Lihan Dual USB Car Charger. Anker 48W 4-Port USB Car Charger. Jelly Comb 6 Port Lightning Car Charger (right). Source: Amazon.com
While many modern cars are manufactured with multiple 12-volt receptacles, what do you do if your car only has one? The answer is the socket splitter. Socket splitters can convert a single socket into two, three or even four sockets. Some even include USB ports to allow phone charging without losing access to a socket. Shown below are the Twin 12-volt Socket Splitter available from Overton's for $9.99, Bestek's 3-Socket 12-volt/24-volt DC Cigarette Lighter Power Adapter for $23.99 on Amazon.com and the PowerCup 6.2 for $24.95 from Wagan Tech.
From left to right: Twin 12-volt Socket Splitter. Source: Overton's; Bestek 3-Socket Cigarette Lighter Power Adapter. Source: Amazon.com; PowerCup 6.2. Source: Wagan Tech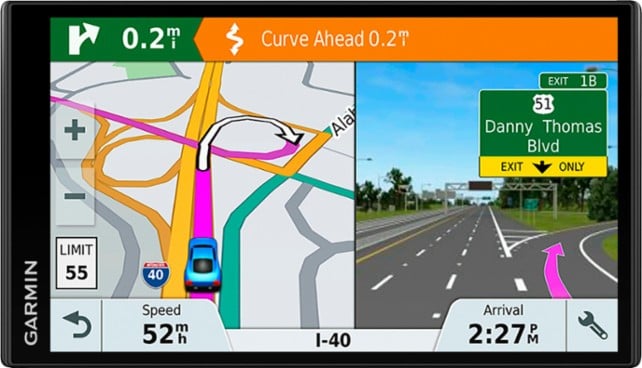 Garmin DriveSmart™ 51 LMT-S. Source: GarminAlthough they face stiff competition from a number of (sometimes free) mobile apps, a global positioning system (GPS) receiver has many advantages over their cell phone counterparts. A GPS navigator features larger, brighter screens making them easier to read on a sunny day. Additional features of some higher end GPS receivers, such as the Garmin DriveSmartTM 61 LMT-S ($229.99), include:
Lifetime map updates
Live traffic conditions with automatic rerouting
Live weather forecasts
Parking availability trends and pricing
Voice-activated navigation
Bluetooth
Wi-Fi connectivity for software and map updates
Restaurant, rest area and gas station information
Smartwatch connectivity
Driver alerts for changing road conditions, red light or speed cameras and school zones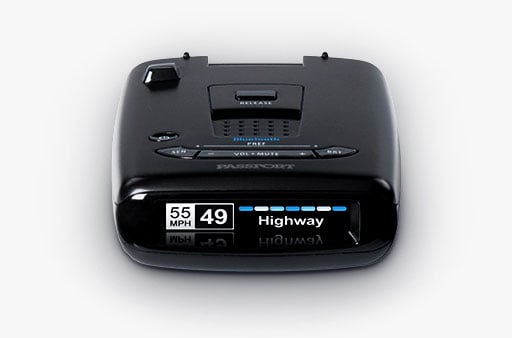 Escort Passport Radar Detector. Source: EscortRadar detectors, such as the Escort Passport ($349.95), allow a motorist to drive with the confidence that they will be alerted of a speed trap ahead. Newer radar detectors incorporate GPS technology, allowing motorists to store the location where police are monitoring. Radar detectors are not foolproof, however. If law enforcement is using "Instant-On" radar, they will have detected your speed before the radar detector alerts you. Police are also using radar detector detectors (RDD) to notify the police that a radar detector is in use. Ten states and many countries have outlawed the use of radar detectors. For the record, IEEE GlobalSpec recommends obeying all traffic laws.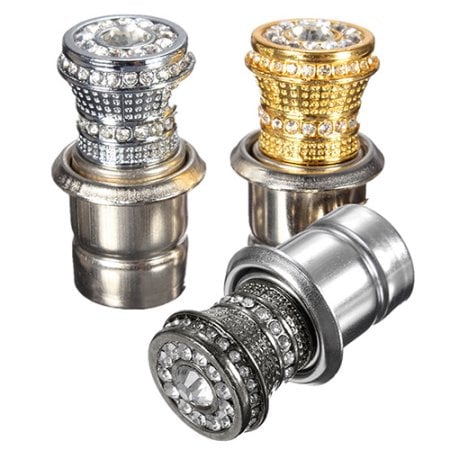 Cigarette Socket Lighter. Source: WalmartThose over the age of 35 probably remember when 12-volt outlets were called cigarette lighters. Along with an ashtray, cars featured an electrically heated cigarette lighter. By the end of the 1990s, cigarette lighters were completely phased out due to pressures from health advocates and a decline in the smoking population. If you're a smoker, want to start a campfire or are just feeling nostalgic, you can still get a cigarette lighter such as this bling rhinestone lighter available in silver, gold or gray for $9.99 from Walmart.
Personal Comfort
Whether it's too hot, too cold, your back is sore or you need to defog your window, there's a 12-volt accessory that's got you covered. There are oscillating fans, air conditioners, heated seat cushions, back massagers and more to ensure your comfort on the road.
When it's hot out and you're camping or your air conditioning isn't working, you'll enjoy the Go Gear 12-volt oscillating fan from Autobarn ($14.95). If you have a bigger space to cool, such as a camper, the IcyBreeze Portable Air Conditioner and Cooler ($249.00) will keep you and your drinks cool.
The RoadPro 12-volt Mini Air Purifier/Ionizer ($9.95) will eliminate that musty or smoky smell as well as dust and pollen. It plugs directly into your 12-volt outlet and is available at Amazon and truck stops everywhere.
The RoadPro "All Season" Heater/Fan with Swivel Base ($24.72) keeps you comfortable all year.
From left to right: Go Gear Oscillating Fan. Source: Autobarn; Portable Air Conditioner and Cooler. Source: IcyBreeze; Mini Air Purifier/Ionizer. Source: RoadPro; "All Season" Heater/Fan. Source: RoadPro
Sore back? Don't worry, the Wagan Infra-Heat Massage Cushion ($59.95) with lumbar support and bio-magnets will help relieve the pain. The cushion features both massage and heat and comes with a multi-zone remote control. Massagers are located in the upper back, lower back and legs and have three adjustable massage patterns with three adjustable intensity settings. When you finish your drive, you can even take the cushion with you. The included AC and DC makes it easy to use the cushion wherever you'd like. Bio-magnets are placed throughout the cushion to stimulate healing in back muscles, legs and waist.
If you like the AC blasting and your passenger is always cold, the Car Cozy 2 electric travel blanket from Trillium Worldwide, Inc. ($24.99 at Walmart) will eliminate fighting over the temperature controls and keep your passenger comfortable on long trips. The 58 inch-by-42 inch model is large enough for two people, and the seven-foot cord reaches the back seat. The blanket also features a 30- or 45-minute safety timer with auto shut-off and automatic temperature control.
Infra-Heat Massage Cushion (left). Source: Wagan; Car Cozy 2 (right). Source: Trillium Worldwide
Tools and Safety
When it comes to tools and vehicle safety, there is an abundance of 12-volt accessories available. The items below are only some of the items that can get you help, power your accessories or get you back on the road.
Never be stranded with a flat tire again. Inflators (air compressors) are electric air pumps used to inflate something such as a tire or an air mattress. Most inflators include a pressure gauge so you know when inflation has reached the proper pressure. Husky's 12-volt Inflator is $29.98 at The Home Depot.
Black & Decker's 12-volt Compact Auto Vacuum has all of the features you need to keep your car interior clean. A 16-foot cable allows you to reach all corners of your vehicle, no matter how big. Buy it at Target for $29.99.
Need a larger capacity vacuum for cleaning a work site or bigger messes than a portable vacuum can handle? This $46.95 12-volt Wet/Dry Portable Canister Vacuum available at TearDropShop.com can remove wet or dry materials.
CyberPower's DC Universal Power Adapter comes with five selectable output voltages and seven adapter tips for compatibility with most portable electronics. The power adapter carries an MSRP of $18.95 and is available at Amazon and other online retailers.
From left to right: Husky Inflator. Source: The Home Depot; Compact Auto Vacuum. Source: Black & Decker; Wet/Dry Vacuum. Source: TearDropShop.com; DC Universal Power Adapter. Source: CyberPower
Want to be able to switch something on or off from the convenience of your 12-volt outlet? The Hwydo On/Off Switch plugs into your cigarette lighter and features a large red push-button switch and a 3 meter copper wire for $6.97 on Amazon.
What do you do if your 12-volt device has a cord that is just too short? The answer is an extension cable, like Wagan Tech's 12-volt/24-volt DC Socket Extension that features a 12-foot cord for only $14.95.
Need to plug in a laptop or other 120-volt AC device? The PowerCup AC Inverter features two 120-volt AC outlets and a 2.1-amp USB port in a handy cup holder design package. Find it on Amazon for $16.41.
Nobody likes getting stuck with a dead battery. If you don't have standard jumper cables, the $29.95 Easy Quick Jumper from Wagan makes it possible to jump-start your car just by plugging into the cigarette lighter socket in your car with the dead battery and the socket of a working car. Wait five to 10 minutes and you'll be up and running.
From left to right: Hwydo On/Off Switch. Source: Amazon; Extension Cable. Source: Wagan Tech; PowerCup AC Inverter. Source: PowerLine; Jump Starter. Source: Wagan
The Blazer C45AW Amber LED Strobe Light features 36 high output LEDs, a 12-foot power cord and a heavy-duty magnet that will securely mount to your vehicle without scratching it. Get it on Amazon for $11.81.
Don't get stuck working in the dark again. The Brinkmann DC Spotlight provides 2,000 lumens with its halogen H4 100-watt bulb and three million candlepower. An eight-foot cord will easily reach under the hood to see what you are working on. Available at Walmart for $23.94.
A dash camera can be invaluable in the unfortunate event of a car accident. The PAPAGO! GOSAFE 272 dash camera features automatic recording in one of three HD resolutions and a G-sensor triggers an automatic back-up if a collision is detected. At Walmart and other online retailers for $79.99.
Backup cameras are almost becoming a standard safety feature in newer car models. If your vehicle didn't come with one, that doesn't mean you're out of luck. Rear Safety View's RVS-091406 Wireless Backup Camera System has a 4.3-inch monitor that plugs into your 12-volt outlet. The wireless camera features nine infrared lights that provide 30 feet of night vision. The entire system is $249.99 from Rear View Safety.
From left to right: Strobe Light. Source: Blazer-International; Brinkmann Spotlight. Source: Walmart; Dashboard Camera. Source: PAPAGO; Backup Camera. Source: Rear View Safety
Auto Appliances
You don't have to leave the conveniences of your home kitchen behind with the abundance of auto appliances on the market today. Whether you're tailgating, camping or drive a tractor-trailer, you can enjoy your favorite beverage or home-cooked meal no matter where you are.
The Max Burton Pot-Popper ($14.48 on Amazon) is a combination pot and popcorn popper. It's made of lightweight aluminum with a baked-on acrylic enamel finish and comes with a five-foot power cord.
Another Max Burton product, the Digital Stove To Go ($49.99 on My12VoltStore.com) has a large 1.5-liter capacity and a removable pan and steaming tray. It is ideal for making casseroles, soups, stews, hot dogs and heating sandwiches and leftovers.
Auto-Queen offers a 12-volt pizza oven for those occasions where you're craving pizza but are miles from the closest pizza joint.
Plug in the RoadPro RPSL-350 1.5 Quart Slow Cooker ($30.89 on Amazon) when you leave home and your meal will be ready for you when you reach your destination. The cooker has a 12-volt plug at the end of a six-foot cord and draws 8 amps. You don't have to worry about spills either, as the glass lid comes with a stretch cord to keep it in place.
From left to right: Sauce Pan/Popcorn Popper. Source: Amazon; Digital Stove. Source: Amazon; Pizza Oven. Source: Auto-Queen; Slow Cooker. Source: RoadPro
A must-have tailgating or camping accessory, the Waring TailgaterTM Specialty Blender ($79.95 at Walmart) will keep you refreshed by blending your favorite drinks. The 15-foot cord plugs directly into your cigarette lighter outlet.
The RoadPro 12-volt Coffee Maker ($27.25 on Amazon) comes with a 16 oz. metal carafe and brews a full pot in about 15 minutes. It features a reusable filter, a fused 15-amp 12-volt plug at the end of a seven-foot cord and a mounting bracket for your vehicle.
Keep your coffee warm for hours with the Tech Tools Heated Smart Travel Mug with Temperature Control ($27.95 on Amazon). The 16 oz. stainless steel mug features temperature controls to keep your liquid between 85 and 160 degrees Fahrenheit.
The Koolatron W65 Kargo Wheeler 12-volt Cooler/Warmer ($174.99 from My12VoltStore.com) cools to 40 to 45 degrees Fahrenheit below the outside temperature. Reversing the power cord converts the unit into a warmer. The cooler fits 42 12-ounce. soda cans and can be used in chest position or upright.
From left to right: Blender. Source: Waring; Coffee Maker. Source: RoadPro; Heated Travel Mug. Source: Amazon; Cooler/Warmer. Source: Koolatron
Who could have imagined in 1970 that there would be so many uses for your car cigarette lighter? While we certainly haven't covered all of the types of 12-volt accessories on the market today, this provides an overview of the wide range of products available. Did we leave anything out? We'd love to hear your comments about any cool 12-volt gadgets you've come across.
Disclaimer: IEEE GlobalSpec has not tested and cannot endorse any of the products in this article. Users are encouraged to perform their own research.