That next pair of bubble-gum pink Wellingtons you buy may be made from old chewing gum.
London-based custom compounder Teknor Apex has teamed with waste gum recycler Gumdrop Ltd., also of London, to convert that discarded gum into a raw material for commercial-grade thermoplastic elastomers, or TPEs, to make rain boots, smartphone covers, and other products.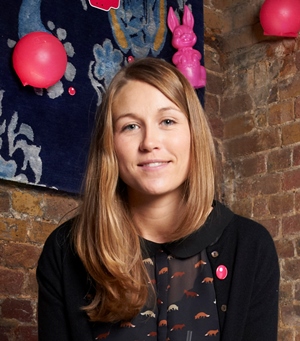 Anna Bullus developed a reuse stream for discarded chewing gum.Gumdrop Ltd., founded in 2009 by 32-year-old product designer Anna Bullus, claims to be the first company in the world established specifically to collect, process, and recycle waste chewing gum.
As you might expect, the used gum isn't picked up by stepping on it in shopping mall parking lots or other public places. Instead, it is collected largely from the gum industry and consumer sources, thus diverting it from landfills and the undersides of desks and chairs.
With a process in place for reclaiming pre- and post-consumer gum for use in a material it calls Gum-Tec, Gumdrop turned to Teknor Apex to develop and produce compounds from the waste stream.
The challenge was to devise formulation and manufacturing techniques for a new type of raw material to produce commercial-scale quantities of compounds that consistently meet the requirements of specific applications. Those specs include optimized elasticity, compression set, tensile, and other mechanical properties, as well as processability, according to the company.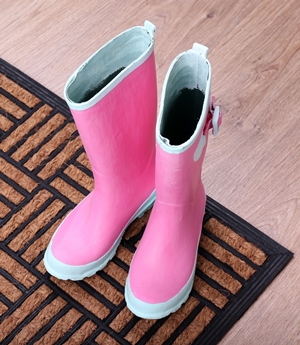 Gumboots are the company's first larger-scale commercial product featuring waste chewing gum. Source: Gumdrop Ltd."We assembled a multi-disciplinary team drawing on our capabilities for materials analysis, process engineering and manufacturing," says Stef Hordijk, senior market manager for Teknor Apex. "The team addressed basic considerations such as feeding it into our equipment, formulating compound recipes using this unique raw material, determining optimal compounding process parameters, and other issues posed by such an unusual feedstock."
The TPE compounds the company formulated comprise up to 30% chewing gum waste.
"Like standard TPEs, the Gum-Tec compounds we've developed exhibit a low compression set, can be formulated for either glossy or matte finishes, readily accept colors, and are recyclable," Hordijk says.
Gumdrop's goal, says Bullus, is to divert a substantial amount of chewing gum waste and convert it into Gum-Tec compounds for use in the runner and plastics markets. The idea is to give this waste stream a second life and putting it to use in "high-quality end products that contribute to sustainability."
How It Began
Bullus, who studied three-dimensional design at Camberwell College of Art and later at the University of Brighton, specializing in plastics and material experimentation, recalls walking home one day and picking up a piece of litter that contained a single bit of chewing gum. After realizing that used chewing gum was everywhere and that no single source to recycle or repurpose it existed, the inspiration for Gumdrop was born.
After numerous lab experiments using different materials, temperatures, and resins, she developed a moldable material from chewing gum that could be used to manufacture a bin, which she dubbed the Gumdrop, to collect chewing gum and recycle it to make new bins.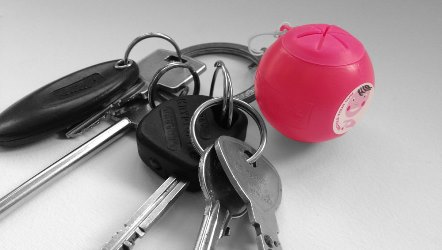 Gumdrop-on-the-go, a mini storage device for discarded gum. Source: Gumdrop Ltd.After graduating from Brighton, she spent three years at the Polymers Department at London Metropolitan University developing a commercially viable material from recycled chewing gum. That material is now known as Gum-Tec and can be used in existing plastics manufacturing processes such as injection and blow molding.
Next up in product development was the Gumdrop-on-the-go, a novelty item that's basically a portable chewing gum bin. It comes with a key ring attached so it can be carried along with other personal items. Once the Gumdrop container is full, it can be mailed back to the company or dropped off at various collection points.
Now, with the Teknor Apex-formulated TPE Gum-Tec material, Gumdrop has launched its first larger-scale commercial product, Gumboots, a collection of colorful welly boots for kids and adults.
But for Bullus, Gumdrop is not just a business but a passion.
"Every kilogram of chewing gum that goes into a Gum-Tec compound means one less kilogram going to the landfill," she says.