Methane Emission Sources ID'd from the Air
John Simpson | September 07, 2016
Researchers have flown aircraft over an oil and gas field to pinpoint sources of the greenhouse gas methane in real time.
The technique—developed by Christian Frankenberg, of NASA's Jet Propulsion Laboratory and the California Institute of Technology—led to the detection and repair of two leaks in natural gas pipelines in the Four Corners region of the U.S. Southwest. The approach could inform strategies for meeting federal limits on methane emissions from the oil and gas industry.
"If there's a desire to identify and address the largest methane emitters, our approach provides a way to do that," says Eric Kort, assistant professor of climate and space sciences and engineering at the University of Michigan and co-author of a paper about the research published in the Proceedings of the National Academy of Sciences. "The method shows that you can easily fly over an area and actually see the plumes in real time."
The team previously used satellite measurements to identify the Four Corners region as a source of methane emissions. Their work builds on previous finding by zooming in on the region with enough detail to pinpoint individual methane plumes instead of giving an averaged view for an area many miles wide.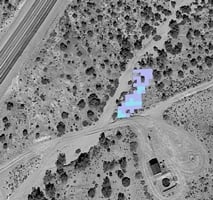 Aerial view of a plume of methane as seen with the help of an imaging spectrometer that operates like a near-infrared camera. Image source: Christian FrankenburgTo conduct the research, the team flew two specially instrumented Twin Otter aircraft over a 1,900-square-mile area where Arizona, New Mexico, Colorado, and Utah meet. Each aircraft carried an imaging spectrometer that operates like an infrared camera—one imaged at near-infrared wavelengths and the other at thermal wavelengths. Two additional aircraft flew over and around the larger sources to measure the concentration of methane in the plumes as calibration points for already obtained satellite measurements.
Statistical analysis showed that 10% of the methane sources the researchers identified were responsible for more than half of the observed point-source emissions in the region. The analysis confirmed the so-called "fat" or "heavy" tail statistical distribution the researchers expected to see.
"A relatively small number of sources emit a disproportionate share of emissions," Kort says.
The team identified 250 methane plumes emanating from natural gas processing facilities, storage tanks, well pads, pipeline leaks, a coal mine venting shaft, and natural sources.