High-speed Chemical Sensor Could Aid Airport Security
Engineering360 News Desk | August 29, 2016
A chemical sensor capable of rapid detection of drugs, explosives and other substances from a distance of 30 meters has been unveiled by a European technology consortium. The bombing at the airport in Brussels in March 2016 and the urgency to help prevent similar attacks served as an impetus behind the new mid-infrared photonic device.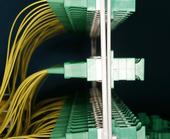 The sensor uses the mid-infrared wavelength band. Source: MIRPHAB The sensor, which reads the unique frequencies given off when liquids or gases interact with light, could be installed at airport entrances, stadiums or other public places to scan crowds and bags for suspicious materials.
The technology is based on advancements in phototonics and uses the mid-IR, or mid-infrared wavelength band (3 + 12 μm), for greater performance. In this so-called "fingerprint region," chemicals exhibit intense absorption features that allow for "unmatched detection of capabilities and unambiguous identification," researchers say.
The device can detect chemicals at a rate that's 6 times faster than standard portal scanners, and the goal is to eventually shrink the technology to the size of a mobile phone, says Sergio Nicoletti, coordinator of the MIRPHAB project.
MIRPHAB is the short version of the European Commission-funded project called Mid InfraRed Photonics Devices Fabrication for Chemical Sensing and Spectroscopic Applications. The aim of the 18-member consortium is to establish and run a dedicated pilot line based on a Mid-IR photonics platform, offering manufacturing capabilities for Mid-IR components on wafers as well as packaged chips and to support the emergence of laser-based spectroscopic chemical sensing in the Mid-IR wavelength band.
Explosives and hazardous chemicals detection is one application consortium members see for the technology. Mid-IR sensors can detect diseases, scan for bacteria, test for the presence of alcohol and monitor carbon emissions.