Smart Material Can Change Appearance and Revert
John Simpson | August 25, 2016
New smart materials developed by University of Connecticut researchers can change their appearance and quickly revert to their original state, just like the squid and jellyfish that inspired them.
The materials, which are stretchable, thin and slightly squishy, have potential applications in smart windows, display optics and encryption technology.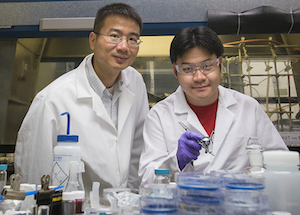 UConn Associate Professor Luyi Sun, left, and graduate student Songshan Zeng work on their novel smart materials in the lab. Image credit: Sean Flynn/UConn. In the case of the jellyfish, wrinkling its skin, which is very flat and transparent most of the time, can cause a deformation that creates an opaque appearance. The squid can instantaneously change its skin color by contracting the tiny muscles that encircle its pigment cells.
To see if they could develop materials that would achieve these same quick, reversible changes in appearance, the researchers began with a thin, rigid film and attached a thicker layer of soft, stretchable elastomer. When the layers are joined and stretched, the rigid layer develops cracks and folds. As this layer is stretched, the cracks and folds grow in size in proportion to the force exerted. As a result, the surface becomes rough and scatters the light that passes through, thereby changing the material's transparency.
Three variants on the material were created based on similar principles. By altering the qualities of both the flexible and the rigid layers—via the addition of pigment, luminescent or reflective materials—different outcomes were achieved.
In one case, after dye was added to the elastomer layer, the material showed strong fluorescence as it was stretched. Stretching and releasing the material allowed open cracks to form or disappear, switching the fluorescence on or off.
In another experiment, the material changed color. Dye was added to both the rigid thin film and the stretchy elastomer, one inlaid with green and the other with orange luminescent dyes as well as a reflective layer. Under ultraviolet (UV) light in the relaxed state, the sample showed green luminescence. When it was stretched, orange luminescence developed as the cracks occurred.
After initial development, the material was put to the test to study its durability. To verify its integrity, graduate student Songshan Zeng put the material through more than 50,000 stretch/release cycles. The mechanical responsive optical properties were not lost, despite the extensive testing.