Ethane-Fueled Engine Readied for Use in LEG Carriers
John Simpson | August 04, 2016
Mitsui Engineering & Shipbuilding has completed assembly of an ME-GIE ethane-operated two-stroke diesel engine, a world first according to the engine's designer, MAN Diesel & Turbo.
The Mitsui-MAN B&W 7G50ME-C9.5-GIE is the third in a series of three engines for installation in three liquefied ethylene gas (LEG) carriers of 36,000 m3 that are being built for Hartmann Schiffahrt of Germany and Ocean Yield of Norway at Sinopacific Offshore Engineering, in China. The LEG carriers primarily will carry liquid ethane as cargo.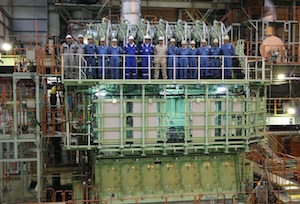 The Mitsui-MAN B&W 7G50ME-C9.5-GIE at Mitsui's Tamano Works. Image credit: MAN Diesel & Turbo. According to MAN Diesel & Turbo, the ME-GI engine gives ship owners and operators the potential option of utilizing gas or heavy fuel oil (HFO) depending on relative price and availability, as well as environmental considerations. MAN Diesel & Turbo says ethane was chosen in preference to HFO due to its more competitive pricing.
While ME-GI engines in the past have been designed for use by methane, operation on ethane is a new development. Ethane's emissions profile is similar to that of methane but it contains negligible sulfur and comparatively lower CO2. The company says the ME-GI engines nonetheless are being set up so as to allow easy conversion to run on methane as an alternative if desired.
According to MAN Diesel & Turbo, compared to competing engines, the ME-GI engine has only a negligible unburnt gas slip, consequently adding very little to the greenhouse effects of such slips. In addition, its diesel combustion principle leaves no formaldehyde emissions, according to the company.
MAN Diesel & Turbo has also developed an alternate version of the ME-GI capable of operating on LPG, methanol and other liquid gases.