Video: New heavy-duty diesel engine technology slashes NOx emissions
S. Himmelstein | May 28, 2020
Technology to improve fuel economy and lower nitrogen oxides and carbon dioxide emissions from heavy-duty diesel engines has been engineered at Southwest Research Institute. The combination of engine modifications and aftertreatment systems is designed to help diesel engine users comply with stringent emission goals scheduled to be implemented by the California Air Resources Board in 2024.
The first phase of the research effort focused on achieving low NOx levels using a turbo-compound engine,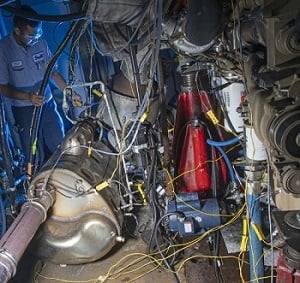 Advanced clean diesel engine technology combines engine modifications with integrated aftertreatment technology and control strategies to reach near-zero emissions levels. Source: Southwest Research Institutewhich required integration of novel catalyst technologies and a supplemental heat source. The next phase focused on the design of a low-load certification cycle to gauge the performance of engine aftertreatment systems in low-load conditions, such as while idling. The last phase leverages a different engine architecture more representative of the broader heavy-duty industry to meet greenhouse gas targets and to simplify the ultra-low NOx aftertreatment solution.
The researchers are now fine-tuning and evaluating the near-zero emissions technology, which has demonstrated a 90% reduction in NOx emissions, with a 2017 Cummins X15 engine architecture. Performance evaluations under realistic operating conditions, such as hydrothermal stress and catalyst contamination, are ongoing to validate real-world performance.