First Conversion of a Slow-speed Marine Diesel Engine to Ethane Fuel
S. Himmelstein | August 27, 2018
The slow-speed marine diesel engine aboard the ABS-classed Navigator Aurora, a 35,000 m3 ethylene/LPG carrier, has been converted to operate on ethane as a fuel. The 15-day long conversion — a world's first — was a collaboration between Navigator Gas, Charterer Borealis, engine manufacturer Man Energy Solutions, cargo system and fuel gas supply system suppliers TGE and ABS.
The existing Man B&W 6S50ME-C8.2-GI dual fuel (heavy fuel oil/LNG) burning engine was converted to a dual fuel (heavy fuel oil/ethane) 6S50ME-C-GIE engine. The capability to efficiently burn ethane boil-off gas as engine fuel significantly reduces the need for gas re-liquefaction during voyages. This translates into reduced power requirements for cargo handling, thus providing a more efficient and environmentally sound overall system.
The engine retrofit followed engine performance and emissions tests that demonstrated suitable power and emissions performance and compliance with classification and statutory requirements at a fuel gas injection pressure of just over 300 bar.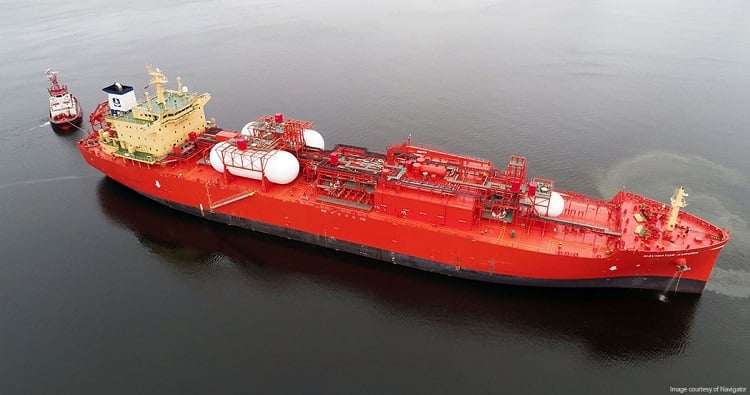 In a world's first, a slow-speed marine diesel engine was converted to operate on ethane as fuel. Source: ABS