Timber High-Rise in Nordic Country
Vincent Zandri | June 21, 2016
Skellefteå, Sweden is located just beneath the Arctic Circle, making it a much sought out tourist destination, and now it will also be the home to a new high-rise hotel to be constructed not of the more traditional structural steel and concrete, but instead, environmentally friendly timber.
Recipient of a recent major international design competition, the Skellefteå's cultural centre and hotel will not only blend in with the city's existing timber structures, the 19-story, 76 m-high building will be the tallest timber structure in all the Nordic countries while its floor-to-ceiling glass-walled exterior allows for stunning multi-mile views.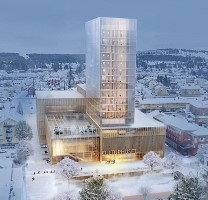 Skellefteå's cultural centre and hotel will be the tallest timber structure in the Nordic countries. Photo by: White ArkitekterAccording to InternationalTimber.com, one of the reasons why timber is gaining popularity in some construction sectors over steel, brick, and concrete is its superior strength, especially that of cross-laminated timber (CLT) which is created by layers of glued together softwood. Timber is environmentally friendly, sustainable, and offers greater insulation value than steel. It can also increase the speed of a construction project since portions of a timber building can be prefabricated off-site. Prefabrication also reduces on-site waste and overall project cost.
Just shy of 30,000 sq ft, the Skellefteå's cultural centre and hotel has been designed with flexibility in mind with retractable walls for use in making rooms larger for major exhibitions, or smaller for functions that require less overall space. Surrounded by dense forest, the facility will pay homage to both its natural environment as well as the local timber industry.