Brookfield plans wood timber mid-rise on San Francisco pier
David Wagman | January 30, 2020
Brookfield Properties said it plans to build a 310,000 sq ft mass timber building that will be among the largest such buildings in North America.
The building is planned to be 85 ft tall with six floors. It would be the first office parcel to be built from the ground up at Pier 70, a $3.5 billion waterfront neighborhood with housing, offices, parks and rehabilitated historic buildings.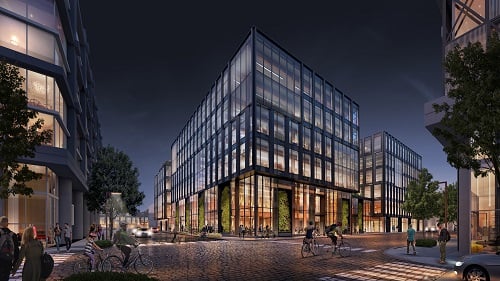 Artist's concept of the proposed Pier 70 timber structure. Source: Hacker Architects The building would be built using cross laminated timber (CLT) floor slabs, glue-laminated timber (Glulam) columns and beams, steel lateral seismic framing and metal cladding. CLT floor panels laminate layers of solid wood that change direction in each subsequent layer. The pattern is intended to make the panels strong in two directions.
Brookfield said the design gives the panels "comparable strength to traditional building materials like steel or concrete."
The lead designer for the building is Hacker Architects of Portland, Oregon, and Quezada Architects of San Francisco.
Among the building's interior features will be one- and two-story ceiling heights and windows ranging from 14-28 ft high, using 27 inch exposed wood beams. From its interior and exterior, the building would have views through the structure to showcase the wood.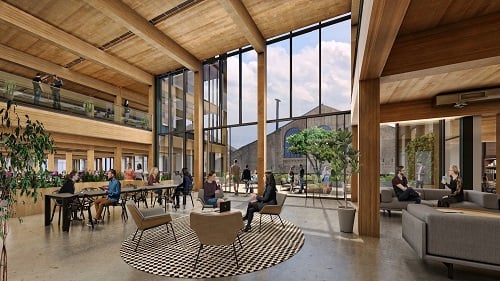 Artist's concept of the Pier 70 building interior. Source: Hacker ArchitectsThe building's exterior will include metal panels finished to appear as raw weathering steel. In addition to offices, Brookfield said it plans to include a retailer, restaurant and bike lounge at ground level.
Brookfield said that although mass timber can be costlier to build with than steel, the costs may be offset by factors such as the lighter weight of the wood, which can lead to lower foundation costs and faster construction times. Prefabrication is is expected to cut construction time by as much as 6 months compared to a similar-sized concrete building.
Design approvals for the Pier 70 timber office building are underway, Brookfield said. Pending approvals by the Port of San Francisco and the City of San Francisco, construction could begin in spring 2020 and be completed within two years.