Japan Expected to Be Home to World's Tallest Wooden Skyscraper in 2041
Marie Donlon | February 21, 2018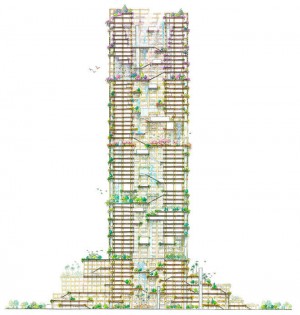 Source: Sumitomo ForestryTokyo, Japan, is expected to be home to the world's tallest wooden skyscraper by 2041.
Called the W350 Project, the 70-story wooden structure from Japanese Company Sumitomo Forestry will include space for shops, offices, residential units and a hotel.
Made from 10 percent steel and 90 percent wood, the environmentally friendly building is expected to have a lower carbon footprint than traditional concrete and steel buildings, as the wood stores carbon instead of emitting it back into the atmosphere as the other materials do.
Additionally, builders will be using cross-laminated timber, which is designed to be resistant to fire.
With a current price tag of roughly $5.6 billion (600 billion Japanese yen), the building costs an estimated double what a traditional skyscraper of the same size would.
However, that number is expected to drop as 2041 approaches and technological developments are made.