Going the Last Mile with Delivery Robots
Peter Feuilherade | May 31, 2016
From robots delivering small packages in cities to driverless trucks transporting bulk loads over long distances, advances in robotic delivery in the next decade will lead to significant changes in retail markets, the freight haulage industry and transport in general.
Most trials of autonomous delivery services have involved aerial drones or unmanned aerial vehicles (UAVs). Meanwhile, the latest "connected car" technologies are being tested in hundreds of semi‑autonomous cars on public roads around the world.
In the words of a report by the U.S.‑based market research and consulting firm Navigant Research in April 2016, "electrification, sensing and actuation technology, wireless connectivity and mobile apps built on the internet have each spawned fascinating new capabilities and functions for transportation."
(Read "Six-Wheeled Delivery Robots Set to Hit UK Streets.")
As these trends converge, several companies are testing the use of driverless wheeled vehicles in urban environments for "last mile" deliveries of food orders and small packages, commonly regarded as the most problematic and least efficient step in the e‑commerce delivery chain. These terrestrial drones are battery‑powered and drive themselves along city pavements and cycle lanes without the active intervention of a human operator. They are equipped with sensors and location technology to avoid collisions with pedestrians or street furniture, and microphones for two‑way communication.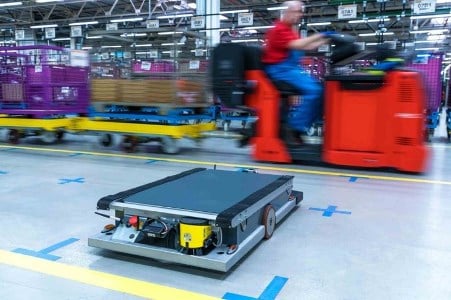 BMW Group tested suitcase sized self-driving robotic trolleys on its factory floors in Germany as part of an automation drive to help cut costs by 5% per car annually.Robots, electric trucks and trolleys with a degree of automation have been used for decades in factories and warehouses to transport products and packages or deliver mail to offices. In hospitals, fleets of autonomous robots travel for miles along corridors delivering medical supplies, patients' meals and other goods. Warehouse and logistics sectors are increasingly automating the supply chain process to meet the growing need for accuracy and faster delivery time. Recently BMW Group tested suitcase‑sized self‑driving robotic trolleys on its factory floors in Germany as part of an automation drive to help cut costs by 5% per car annually.
Minimizing Risks
Autonomous delivery vehicles and self-driving cars have many safety requirements and standards in common. The primary aim is to ensure that automated systems operate efficiently and to minimize the risks to pedestrians and road users as well as goods.
Several IEC Technical Committees (TCs) and Subcommittees (SCs) draw up international standards for the electronic systems, sensors, motors and batteries used in the driverless technology found in electric-powered autonomous vehicles.
IEC TC 69: Electric road vehicles and electric industrial trucks, prepares Standards for motors and motor controllers, on-board electrical energy storage systems, power supplies and chargers.
Because energy for smaller robot delivery vehicles is supplied mainly by batteries, TC 69 liaises closely with TC 21: Secondary cells and batteries, and its SCs, which prepare International Standards for all secondary cells and batteries. This covers the performance, dimensions, safety installation principles and labelling of batteries used for the propulsion of electric road vehicles. These batteries can be of the lead-acid, lithium‑ion, nickel-metal-hydride or lithium iron phosphate types, for instance.
IEC TC 105: Fuel cell technologies, prepares International Standards for fuel cell technologies which are already widely deployed in the industrial and commercial electric vehicle sector.
Now You See Me
Many road-going trucks already include semi-autonomous safety features such as lane change sensors and cruise control. In Europe, all new trucks sold since November 2015 must by law be fitted with autonomous emergency braking.
The next generation of autonomous delivery vehicles is likely to incorporate even more technology already being tested in driverless cars to detect obstacles and hazards. This typically comprises GPS receivers and detailed maps to navigate roads, and a range of 3D vision guidance systems and electronic sensors including laser‑surveying systems known as Lidars (light detection and ranging). Lidar sensors fire lasers ahead and analyse the signal reflected back, scanning the road as far as 200 meters ahead of the vehicle.
Other autonomous driving technology common to cars and delivery vehicles includes rear‑ and forward‑view camera systems, sensor arrays to transmit data between those systems and a vehicle's engine, transmission and brakes, electronic stability control and wireless communication subsystems to communicate with a controller and other vehicles.
IEC work in standardization contributes to the sensors that make driverless technology possible. International Standards prepared by IEC TC 47: Semiconductor devices, and IEC SC 47F: Microelectromechanical systems, enable manufacturers to build more reliable and efficient sensors and microelectromechanical systems (MEMS). IEC TC 56: Dependability, covers the reliability of electronic components and equipment.
Robot at Your Door
Battery-powered delivery robots that interact with customers via a smartphone app are being tested on streets – or rather, pavements – in at least three continents.
Estonia-based Starship Technologies, launched by two co-founders of Skype, has built a fleet of small battery-powered six-wheeled delivery robots with a payload of 9 kg. The robots can operate continuously for more than two hours between charges and are intended for short-range deliveries from local businesses in residential areas, traveling on pavements rather than roads. Tests have been carried out in Estonia, Germany, Belgium and the U.S., and further trials are under way in the London suburb of Greenwich.
Each robot has built‑in 3G and GPS as well as an array of cameras, sensors and obstacle-avoidance software to help it detect pedestrians and travel safely up to its maximum speed of 6.5 kph. Although the robots are overseen by human operators to ensure safety, their creators say door‑to‑door delivery costs could be reduced by 10-15% compared with conventional vehicles like vans or mopeds.
Four-wheeled autonomous vehicles from Dispatch can carry 45 kg and is powered by a lithium-ion battery that allows 12 hours of use. Another autonomous delivery start‑up, Dispatch, is piloting the delivery of mail and packages on college and university campuses in California. Its four-wheeled autonomous vehicle can carry a load of 45 kg and is powered by a lithium-ion battery that allows 12 hours of use. Equipped with cameras and Lidar technology, this delivery robot absorbs data as it navigates along pavements and cycle paths at a walking pace, becoming "smarter" with each trip.
Australian start‑up Marathon Robotics has developed a four-wheeled autonomous vehicle that a global pizza chain is testing in Brisbane to make short‑range home deliveries. This electric vehicle can travel on both roads and footpaths and has a range of 20 km. It uses GPS to navigate and sensors including Lidar detection to avoid collisions.
A Nascent Market
The U.S. technology research company Technavio predicts the overall market for mail‑sorting robots, unmanned ground vehicles (UGVs) and drones that deliver products to customers from warehouses or manufacturing locations will grow from $15.32 million in 2015 to $54.07 million by 2020.
"The evolution of autonomous UGVs is in the nascent stage as most of the vendors are testing these robots for end-user delivery solutions… If these equipment pass the testing phase, then we expect them to hit the UK and the US markets by early 2017," Technavio analyst Bharath Kanniappan told the IEC.
This represents a tiny share of the overall worldwide market for logistics robots. According to Technavio, the global logistics robots market is expected to reach $2.15 billion in the five years from 2016 to 2020, growing at a CAGR of over 32% during the projected period. This market is dominated by mobile factory logistics robots, with a share of 81.9%.
The costs of the sensors and computing power required by autonomous vehicles continue to fall. The price of semiconductor lasers used in 3D Lidar sensors, now $1,300, is predicted to fall to $150 by 2025. Hardware and computing power costs are likely to reduce further once the adoption of robotic technology in delivery services gains momentum.
Nevertheless, business research and consulting firm Frost & Sullivan does not expect to see fully autonomous trucks deployed on U.S. roads for at least another two decades. From a global perspective, the firm predicts that some 8,000 autonomous‑enabled trucks will be sold worldwide by 2025 for on-road applications, rising to more than 180,000 units by 2035.
Gonna Roll This Truckin' Convoy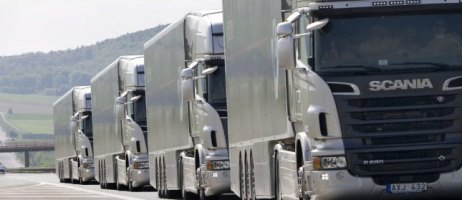 Platooning is seen as a first step in the autonomous vehicle process. Meanwhile, April 2016 brought the prospect of fleets of larger self‑driving delivery vehicles sharing public roads a step nearer. Six European truck companies each drove their vehicles in connected convoys on motorways in the continent's first major test of autonomous "truck platooning" technology.
Platooning is seen as the first step in the autonomous vehicle process, leading to greater road safety as well as cost savings. Trucks travel in convoy at close distances behind one another and communicate with wireless technology. This allows them to brake and accelerate together, cutting down wind resistance and potentially saving as much as 20% on fuel costs. On‑board collision mitigation and cruise control systems enable the driverless heavy goods vehicles to adapt to road conditions and enhance their ability to avoid accidents.
Drones and Robots in Tandem
Autonomous delivery trucks and robots will transform retail and home delivery, once issues like uneven delivery paths and the possibility of theft are resolved. There is potentially a big home delivery market for supermarkets to use driverless vehicles that are smaller than current vans that are used to drop off groceries. New commercial services that combine driverless vehicles and aerial drones working in tandem to deliver to "the last mile" could also cut the time and costs of transporting packages direct to customers' doors, provided they clear regulatory hurdles.
Deploying a fully autonomous vehicle, whether a passenger car or a delivery truck, will require further advances in software as well as in sensor technology. Other conditions to be met before widespread adoption can occur include legislation on liability, standardization of rules across national borders and more public debate.
The consensus among most fleet operators in the U.S. and Europe is that large-scale full automation of trucks is still some years away. Frost & Sullivan believes that while autonomous highway driving in passenger cars could become mainstream by 2020, platoons of driverless trucks will likely not appear until closer to 2022.
Author: Peter Feuilherade, a former BBC World Service journalist, is a UK-based writer and a regular contributor to the International Electrotechnical Commission publication e-tech.