Shell Unveils Ultra-Energy-Efficient City Car Concept
Engineering360 News Desk | April 27, 2016
Shell has unveiled a concept car it says can deliver a 34% reduction in primary energy use over its entire lifecycle compared to the typical urban vehicle available in the UK. The Shell Concept Car would require around half the energy to manufacture and operate than a typical small family car available in the UK and 69% less than that of a typical sports utility vehicle, the company says.
Built around Gordon Murray Design's iStream platform, the Shell Concept Car incorporates lightweight materials—the car weighs just 550kg—with a low CO2 footprint and embodied energy. It uses recycled carbon fiber for its body that Shell says can be assembled for a quarter of the price of a conventional steel car and is largely recyclable at the end of its life. A number of the car's components were created using 3D printing to accelerate its construction.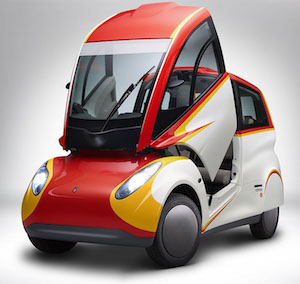 The Shell Concept Car produces less CO2 than either a typical gasoline-powered or hybrid car. Image credit: Shell. Shell provided all the fluids for the vehicle, formulating a motor oil based on its Shell Helix Ultra specifically to enhance the car's overall efficiency. Working with Geo Technology, which optimized the design of internal engine components associated with friction, Shell says its fluids enabled reduction of CO2 emissions by 7.1% on the cold portion of the New European Driving Cycle (NEDC) and by 5% on the combined cycle, compared to standard lubricants.
The car's gasoline consumption has been measured using a range of vehicle testing protocols covering both steady state and urban driving styles. Sample test results include a steady-state consumption of 107 miles per gallon at 45 mph and an improvement of 4.67g CO2/km on the NEDC via the use of custom lubricants—equivalent to a 5% improvement in fuel efficiency compared to standard lubricants available in the UK.
The car was also independently tested at a UK-certified automotive testing facility alongside a range of other vehicles under comparable conditions to measure fuel economy and CO2 emissions. In the NEDC test, it produced lower CO2 emissions than either a typical gasoline-powered city car (28%) or a hybrid car (32%).
"Our car may be small, but it's packed with potential," says Dr. Andrew Hepher, vice president of Shell's lubricant research team. "We want to accelerate the conversation about how we make road vehicles more energy efficient and less carbon intensive. In the coming weeks and months, we look forward to sharing our research insights from this project with engine designers, car manufacturers, academics and other experts across the automotive sector."