Watch the World's Most Fuel-Efficient Vehicle
S. Himmelstein | August 08, 2018
Guinesss World Records has confirmed that a hydrogen fuel cell car engineered at Duke University is the most fuel-efficient vehicle ever operated. Designed by the Duke Electric Vehicles interdisciplinary initiative, the prototype Maxwell — a nod to James C. Maxwell's equations describing electromagnetism — traveled 8.5 miles of track at Galot Motorsports in Benson, North Carolina, and consumed less than one gram of pure hydrogen.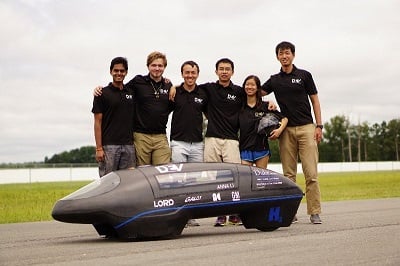 The Duke Electric Vehicles Team and Maxwell. Source: Duke University
The efficiency metric determined for Maxell is the equivalent of 14,573 miles per gallon, based on total distance traveled divided by total hydrogen use.
The car is equipped with a bank of supercapacitors providing the driver with short bursts of energy when under climbing or acceleration conditions. A smaller, lighter fuel cell than those used by competitors was installed to charge the supercapacitor in a design that also earned the Duke team first place in the hydrogen category at the Shell Eco-marathon Americas in Sonoma, California, held in April 2018 of this year.
According to one electrical engineering graduate, the car can drive to any point on Earth using the energy in one gallon of gas.
The design team is gearing up to break the battery electric vehicle record in 2019.