San Francisco Seawall Requires $3 Billion for Quake-Proofing
Engineering360 News Desk | April 23, 2016
San Francisco's century-old Northern Waterfront Seawall, which simultaneously provides flood and wave protection to the city and underpins many of the waterfront structures of the historic Embarcadero district, requires up to $3 billion in reinforcements to harden it against the threat of major earthquakes.
A report released by the Port of San Francisco, based on a study by engineering firms GHD and GTC, says that risks to the seawall are greater than previously understood. The weak soils below the seawall are highly susceptible to lateral spreading along its entire three-mile length, increasing the expected damage to structures and infrastructure adjacent to the seawall in event of a major earthquake.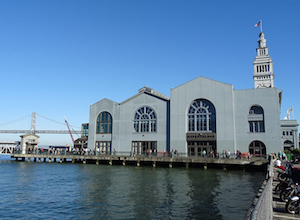 Historic structures built on the seawall are at risk if "the big one" hits San Francisco. Image credit: Pixabay. Other findings of the study, according to the report, include:
· Fill that was used to create the land behind the seawall is susceptible to liquefaction, a phenomenon in which the soil loses strength and behaves similarly to a liquid.
· Large earthquakes will likely cause most of the seawall to settle and move outward toward the bay due to a combination of weakness in the underlying bay mud and increased pressure from the liquefiable fill; however, complete failure of the seawall is unlikely.
· Historic bulkhead wharf structures built of non-ductile concrete are particularly at risk to increased levels of damage. Piers are at risk of increased damage where they connect to the bulkhead wharves.
· Within the Embarcadero, lateral spreading and settlement associated with seawall movement will increase damage to utilities, Embarcadero Promenade and its roadway and the Muni light-rail tracks.
While the seawall has already survived over 100 years in an active earthquake zone, the infrastructure has not yet weathered a major earthquake. Most of the bulkhead buildings and piers in the Northern Waterfront were built after the great 1906 earthquake, the report notes.
The 1989 Loma Prieta earthquake, while damaging, was only a minor test of the seawall itself, the report adds. If a similar-sized earthquake were to occur 10 miles away on the San Andreas Fault, rather than 60 miles away, it would likely cause much higher levels of ground shaking, seawall movement and damage.
To significantly improve the resiliency of the seawall and waterfront, the "most promising mitigation options," according to the report, are:
· Ground improvement of the seawall foundation using jet-grouting techniques;
· A combination of structural retrofits and replacement of bulkhead wall and wharf structures;
· Mitigation of liquefaction in the Embarcadero using stone columns; and
· Select utility replacement and relocation.
In consideration of the potential for sea-level rise, the Port of San Francisco says costs could reach $5 billion to fully incorporate adaptation measures needed "for the next 100 years."