Houston Mayor Now Likes Ike Dike
David Wagman | September 19, 2017
Houston Mayor Sylvester Turner offered his endorsement for constructing a physical coastal barrier to protect the region from storm surge during hurricanes.
Though such a barrier system — known as the "Ike Dike" after Hurricane Ike which hit the area in 2008 — would not have guarded against the unprecedented rain Hurricane Harvey dumped on the area, Turner said at a news conference that he believes it is crucial.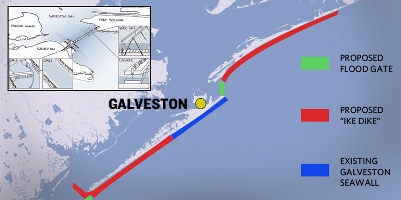 (Click to enlarge.) Proposed location of the "Ike Dike" to protect Galveston Bay. "We cannot talk about rebuilding" from Harvey "if we do not build the coastal spine," he was quoted as saying.
(Read "Might Harvey Hasten the Ike Dike?")
The Ike Dike project was conceived by Professor Bill Merrell of Texas A&M University at Galveston. The project would extend protection offered by the existing Galveston Seawall along the rest of Galveston Island and along the Bolivar Peninsula. It would include building a 17-foot-high revetment near the beach and raising coastal highways.
Adding floodgates at Bolivar Roads, the entrance to the Houston, Texas City and Galveston ship channels, and at San Luis pass would complete a barrier against Gulf surges into the Bay. Merrell says the Ike Dike could be built using existing technology, such as the gates and barriers currently used in the Delta Works project located in the Netherlands.
In April, Texas General Land Office Commissioner George P. Bush sent President Trump a letter, cosigned by more than 60 state and local leaders, asking for $15 billion in federal money to fund the Ike Dike.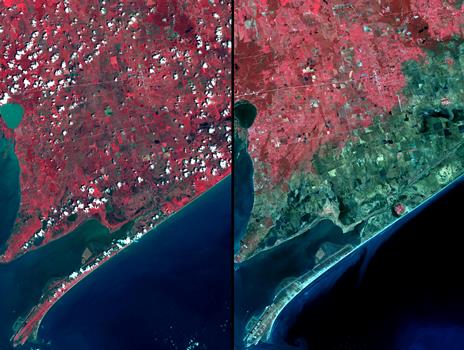 Before and after satellite images of flood damage from 2008 Hurricane Ike.The Port of Houston and the Port of Beaumont are the second and fourth busiest ports in the United States with around 428 million tons of cargo passing through the region each year. The Port of Beaumont handles more military cargo than any other U.S. port.
Some environmental groups have opposed the project due to concerns over how the barrier might change salinity levels in the Bay, potentially affecting wildlife.
Published reports say the $15 billion Congress has approved for Texas in the wake of Hurricane Harvey can't be spent on a coastal barrier; the money can only go toward rehabilitating flooded areas.
The Ike Dike would only protect coastal areas from catastrophic storm surge. It would not help prevent flooding from torrential rain, which is almost entirely responsible for the damage Houston suffered from Harvey.
Houston Mayor Turner also expressed support for a reservoir project that experts say might have saved homes from flooding during Harvey, along with three bayou-widening projects estimated to cost a combined $130 million.