Testbed to Demo Time-Sensitive Wireless Networks
Engineering360 News Desk | March 11, 2016
A swath of industrial automation firms collaborating with the Industrial Internet Consortium (IIC) have developed a testbed to demonstrate wireless control technology in Industrial Internet of Things applications. Participating companies say the testbed will showcase the value of the Ethernet's wireless IEEE 802 standards, now commonly called Time-Sensitive Networking (TSN).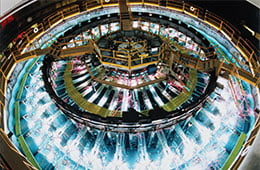 The Industrial Internet Consortium has established its eleventh Industrial Internet testbed. Testbeds are a major focus of the IIC, says Dr. Richard Soley, the organization's executive director. He says they provide an arena where industrial internet innovations can be "initiated, thought through, and rigorously tested to ascertain their usefulness and viability before coming to market."
The eleventh IIC testbed established to date, the TSN testbed will be used to demonstrate real-time capability and vendor interoperability, the consortium says. It says that the testbed will combine different critical control traffic (such as OPC UA) on a single, resilient wireless network; provide feedback on the ability to secure TSN functions; and show the ability to incorporate high-performance and latency-sensitive applications.
Companies collaborating to establish the network infrastructure include testbed host National Instruments, plus Bosch Rexroth, Cisco, Intel, KUKA, Schneider Electric, and TTTech. The open network, the companies say, enables multi-vendor interoperability, and thus, higher levels of performance, as well as supporting real-time control and synchronization of devices in a single Ethernet network. This potential contrasts common deployments today using nonstandard network infrastructure that make it difficult to access devices and data.