U.S. Food and Drug Administration (FDA) regulations governing food processing, as well as similar European Commission regulations, require manufacturers to take care when selecting the equipment used to create their products. This includes the pumps used in processing operations. Pumps, and any other piece of equipment that comes into contact with food and beverages during processing, can potentially endanger human health, bring about an unacceptable change in the composition of the food and affect its appearance, smell or taste.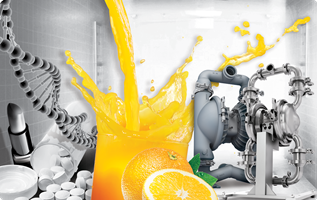 AODD pumps meet a range of compliance requirements in such sanitary and hygienic applications. A blog post by AODD pump manufacturer Wilden explains that any pump complying with regulations must use (for components that contact the product) materials that are traceable by manufacturing heat, batch and lot numbers. Outside contaminants must not be allowed to enter the production cycle, and pumps must be included in cleaning and sanitation procedures designed to meet hygienic requirements.
AODD pumps meet a range of compliance requirements in such sanitary and hygienic applications. These pumps can handle a range of viscosities, solids and shear-sensitive products. Some models also are self-priming, dry-run capable and submersible. They include a Type 316 stainless-steel wetted path to comply with FDA, CE and EC requirements.
Also important in sanitary food-processing applications is the ability to clean the pump diaphragm. The two primary types of diaphragms in use on AODD pumps that comply with 1935/2004/EC requirements are conventional, comprised of an inner piston, diaphragm and outer piston that secures the diaphragm; and full-stroke integral piston. A conventional diaphragm configuration can create a product-trap area between the outer piston and the diaphragm. Bacteria and other contaminants can grow in this trap area and potentially compromise the product and system. To avoid this contamination, pumps with conventional diaphragms must be disassembled and cleaned manually.
To help alleviate contamination concerns while still allowing for automated cleaning, Wilden developed an integral-piston diaphragm configuration that features what it says is an unbroken fluid-contact surface with no product-trap areas. It combines food-grade plastics and elastomers with a stainless-steel core that uses no adhesives or nylon fabric that can contaminate process fluids.