Crescent Dunes Solar Energy Ready to Ramp Up
Engineering360 News Desk | February 24, 2016
Crescent Dunes Solar Energy Project near Tonopah, Nev., generated its first test electricity in the fall of 2015 after completing synchronization with the grid. A new milestone was achieved with full-load electricity generation at 110 MW of net electricity output.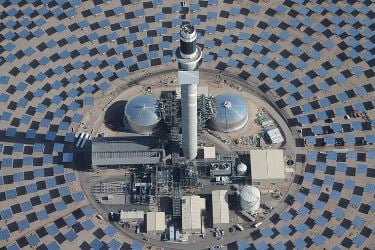 Crescent Dunes features 10 hours of full load energy storage for grid stability and reliability. Image source: SolarReserve.SolarReserve says the project has passed the necessary test to reach full commercial operation under its 25-year power purchase agreement with NV Energy, and the facility will ramp up to its full annual output of 500,000 MWh over the coming year (see video).
The concentrated solar power (CSP) system features molten salt technology, including the molten salt receiver designed and manufactured by SolarReserve, the heliostat collector field controls and tracking system, and the molten salt energy storage system. The molten salt receiver is performing in excess of design expectations in terms of heat transfer efficiency, the developer says. More than 10,000 heliostats focus the sun's energy onto the receiver to heat molten salt and then store it so electricity can be produced.
The developer says the technology solves the intermittency issues experienced with other renewable energy sources, enabling the delivery of renewable baseload and dispatchable power that can compete head-to-head with traditional fossil-fired and nuclear electricity.